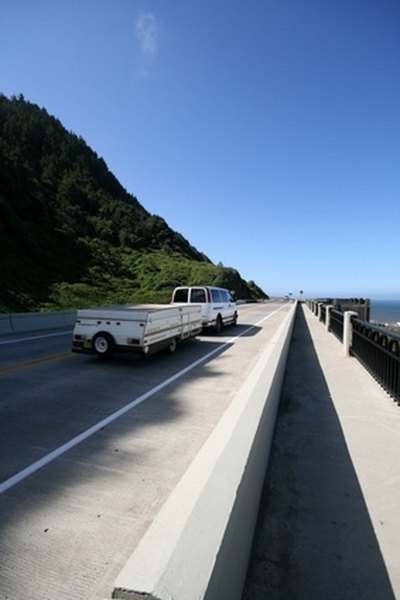 Alpenlite trailers were manufactured by Western Recreational Vehicles in Yakima, Washington. The company was founded in 1971 and went out of business in April, 2008. They produced fifth wheels, truck campers, motor coaches and travel trailers. Their travel trailer model, the Aspen, was discontinued after the 2006 model. The travel trailer was manufactured to specifications for size, features and accessories. As of December 2010, the manufacturer's suggested retail price (MSRP) for the 2006 base model was $26,847.
Dimensions
The 2005 and 2006 Alpenlite Aspen self-contained travel trailers, the last in the line, measure 28 feet one inch in length for the 28RL models. The trailer's height lists at 9 feet 4 inches with its exterior width 8 feet. An option of an electric living room slide-out adds an additional 1 foot 11 inches to the exterior width. The interior height is 6 feet 8 inches. Gross vehicle weight rating (GVWR), which represents the total weight the trailer can safely handle including all of its contents, lists at 7000 pounds.
Construction
The travel trailer was constructed with an aircraft quality aluminum tube structure with foam insulation. Its front and rear consist of aerodynamic fiberglass caps that were hand rolled to ensure the exact fit and finish. The travel trailer can be raised and lowered by means of an electric tongue jack. Power to the unit is supplied by dual batteries and a 1000 watt inverter.
Amenities
The specifications call for special features such as the living room slide out which adds additional living space and the 16 foot electric awning that opens and retracts. A mounted BBQ stores in the unit and is directly connected to the trailer's LP gas system to eliminate the need for separate tanks. A satellite dish sits on the roof. In the interior, maple hardwood cabinetry provides storage.
References
Writer Bio
Robert Alley has been a freelance writer since 2008. He has covered a variety of subjects, including science and sports, for various websites. He has a Bachelor of Arts in economics from North Carolina State University and a Juris Doctor from the University of South Carolina.