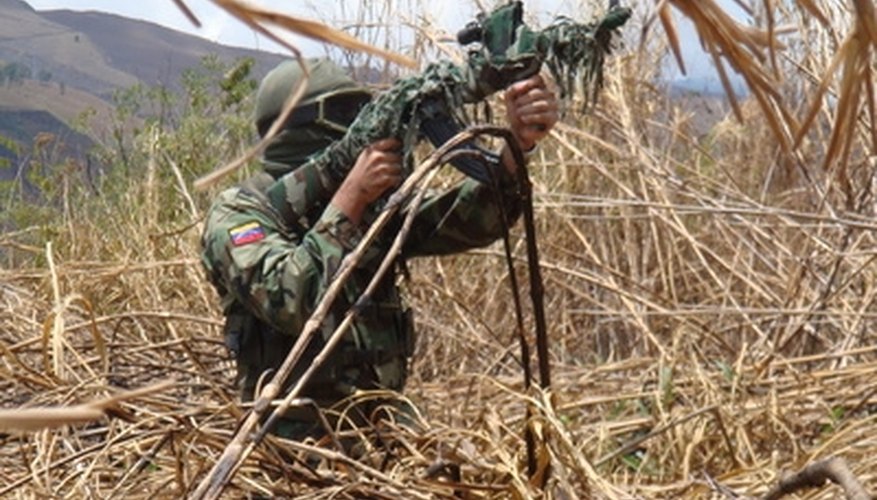 While many states impose regulations on gas-powered guns such as Airsoft guns and BB guns, Wisconsin has yet to designate the items as dangerous weapons or firearms as of July 2010, so there is little regulation of the guns on a statewide level. Municipal laws may ban or limit their use in public spaces, however, and Airsoft players should always seek the permission from a property owner before playing in private property. Despite the lack of regulation in Wisconsin, Airsoft players need to be aware of a few laws concerning their sport.
Blaze Orange Tips
All Airsoft guns are required to be sold with a bright, "blaze orange" tip on the end of their barrel by federal law. Because many Airsoft guns are replicas of working firearms, these blaze orange tips serve to identify their toy status, and to prevent police officers from confusing Airsoft weapons as dangerous firearms. Removing the blaze orange tip is a violation of federal law, as is painting it to match the gun barrel.
Trademarks
Because large numbers of Airsoft guns were being imported, skirting American production standards and using the name and trademarks owned by actual firearms manufacturers, the Military Toy Replica Act was proposed to make it illegal for Airsoft guns to produce guns similar to those of an actual gun manufacturer. Although the legislation didn't pass, makers of Airsoft guns must arrange a licensing agreement with firearms manufacturers to use their names on replicas. In absence of a licensing agreement, the names of firearms manufacturers must be removed from Airsoft guns before they are sold.
Gun-Free School Zone Act
Although possession of Airsoft guns is legal nearly everywhere in Wisconsin, the Gun-Free School Zone Act (Wisconsin Statute S. 948.605) prohibits possession of air guns, including Airsoft guns on school grounds or within 1,000 feet of a school. Breaking this law is a Class I felony. Private property that falls within the 1,000-foot radius of schools has an exception from this law, as are weapons stored and locked for transportation.
References
Writer Bio
Wilhelm Schnotz has worked as a freelance writer since 1998, covering arts and entertainment, culture and financial stories for a variety of consumer publications. His work has appeared in dozens of print titles, including "TV Guide" and "The Dallas Observer." Schnotz holds a Bachelor of Arts in journalism from Colorado State University.