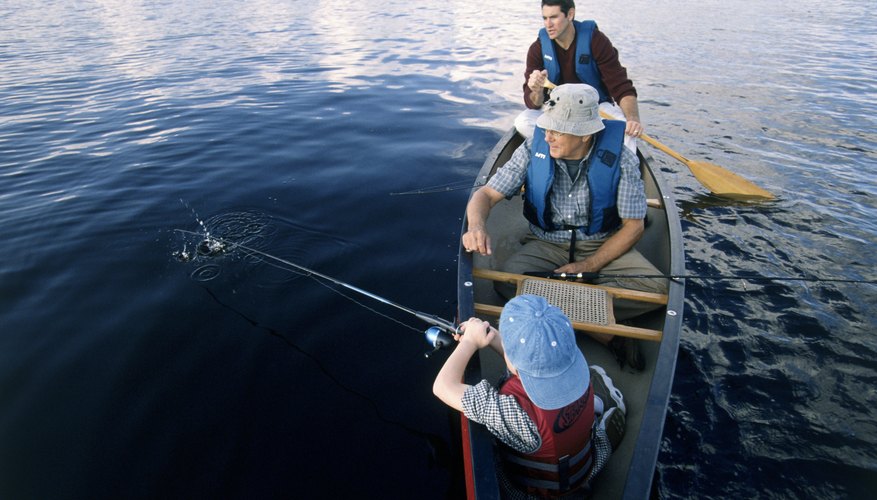 Anglers who prefer fishing with the certainty of catching a bite can choose to visit privately owned fishing lakes in Ohio. Fishing pay lakes are always well-stocked and offers many amenities for your fishing needs. Ohio is home to a wide variety of fish species, but if you prefer to pursue a specific type of game fish, you can select a pay lake that stocks an abundant number of that fish. Visit a pay lake in cities like Fairborn and Hillsboro, then just sit back as you wait for a strike from your favorite game fish.
Identification
Ohio offers numerous pay fishing lakes where you can enjoy casting for game fish. Unlike most public fishing grounds, pay fishing lakes are maintained by private owners instead of the state. You do not have to abide by state regulations when it comes to possession limits and size restrictions when fishing in pay lakes, but you will have to follow the regulations set by the pay lakes' management. Pay lake establishments require you to purchase entrance fees or tickets, often by the number of hours you can fish. According to the Natural Resource Definitive Link to Ohio's Great Outdoors, there are more than 100 fishing clubs and pay lakes in the state.
Fish Species
You will find different types of fish species depending on the fishing pay lakes that you choose. Most anglers select pay lakes depending on the fish species that are stocked in the water. Fish species in Ohio are hybrid striped bass, crappie, carp, catfish, largemouth bass, muskllunge, northern pike, steelhead, sauger, saugeye, trout, smallmouth bass, sunfish, walleye, white bass and yellow perch.
Pay Lakes
Take your fishing gear to numerous pay lakes like Cast Away Lakes in Hillsboro, Lake Shawn in Jacobsburg, Lake Butler in West Chester and Rainbow Lakes in Fairborn.
Cast Away Lake spans 4 acres with a depth of 22 feet. The lake has shelters, picnic tables, one top aerator and six bottom diffusers. Fish are stocked weekly with carp and catfish. You are allowed to catch and keep as many channel catfish, but all other species are catch-and-release only.
Features
Visit Lake Shawn and find healthy populations of smallmouth and largemouth bass, perch, bluegill, crappie, trout, catfish and large hybrid striped bass. Aside from a wide variety of fish species, anglers at the 30-acre Lake Shawn can also enjoy its complimentary 15-foot fishing johnboats with electric motors.
Castaway Lakes has amenities like bait and tackle shop, fish cleaning area and a camp store with snacks. You will find a large selection of live and frozen bait such as goldfish, sucker chubs, night crawlers, golden shiners, shad, liver and herring.
Accommodations
Most pay lakes offer accommodations for anglers who like to enjoy multiple-day fishing excursions. Choose from tent or cabin campsites and enjoy the convenience of fishing all day and camping outdoors. Lake Shawn offers two guest cabins that can accommodate up to five to seven campers. Cabin amenities include a living room space, fully equipped kitchen, gas log fireplace, fire rings, picnic areas and a wood-fired hot tub. Inquire about fishing and camping packages.
References
Resources
Writer Bio
Rona Aquino began writing professionally in 2008. As an avid marathon runner and outdoor enthusiast, she writes on topics of running, fitness and outdoor recreation for various publications. Aquino holds a Bachelor of Arts in communications and English from the University of Maryland College Park.