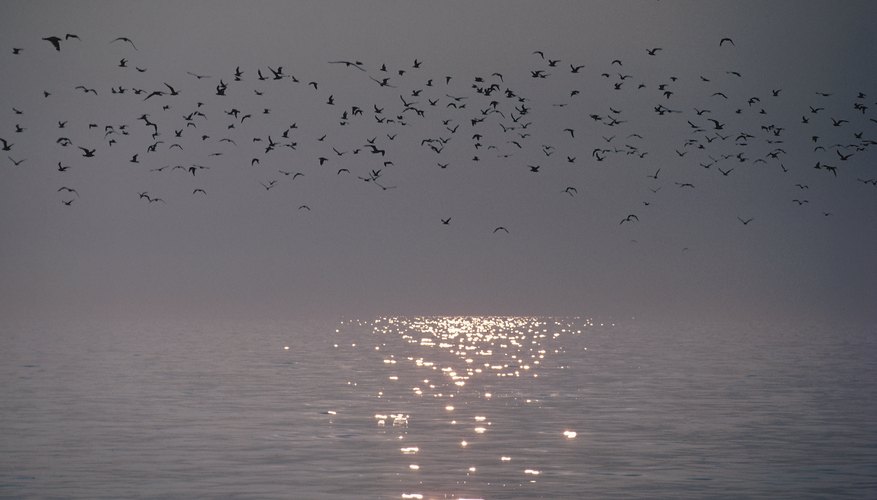 Ohio may be hundreds of miles from the nearest ocean, but campers who love the water still have plenty of options. From the sandy shores of Lake Erie to the most secluded inland lake, countless locations provide a place to pitch a tent or park an RV mere footsteps from the water's edge. Ohio's best waterfront campgrounds also provide a diverse array of other outdoor attractions, from hiking and mountain biking to river kayaking and some of the best freshwater fishing in North America.
Erie's Sandy Shores
Geneva State Park overlooks Lake Erie in the northeast corner of Ohio, and includes a 300-foot beach and access to miles of open water. Lake Erie is sometimes called the walleye capital of the world, and fishermen with a current Ohio fishing license are often rewarded with hefty stringers of bass, pike, catfish and perch in addition to walleye. The lake makes Geneva State Park one of the best spots in the state for fishermen, and in addition to ample shore access, the park includes six boat ramps, a full-service marina and fish cleaning station. Geneva State Park's campground includes modern restrooms, hot showers and 100 campsites within walking distance of the water. Most sites have electricity, and a few come with full water, sewer and electric hookups. If you prefer to have a roof over your head, you can also reserve one of 12 lakefront cabins.
An Island Getaway
Opportunities for island camping are fairly hard to come by in Ohio, but Kelleys Island State Park offers a rare opportunity to pitch a tent more than three miles from the mainland. The park's campground includes more than 100 electric and non-electric campsites for tents and RVs, and ferry boats travel back and forth daily between Kelleys Island and the port city of Sandusky. Many campsites are right on the water, allowing campers to cast a line or hand-launch a small boat right from their site. Kayak rentals are available from Memorial Day to Labor Day, and a two-lane boat ramp provides a place to launch a larger craft. Kelleys Island State Park also includes a handful of premium campsites that come with a tent or yurt already set up. Additional island camping opportunities are available at nearby South Bass Island State Park.
Rolling on the River
The Hocking Hills region of southeast Ohio is one of the most wild and scenic places in the state, with dozens of remote lakes and thousands of acres of pristine forest. The area is also home to numerous campgrounds, but only one place provides campsites on the banks of the quiet and secluded Hocking River. The Riverside Campground, under the management of Hocking Hills Adventures, includes about 80 campsites beneath a dense canopy of trees alongside the Hocking River. These tents-only sites each include a campfire ring, picnic table and access to modern restroom and shower facilities. In addition to riverside camping, Hocking Hills Adventures is also a canoe livery, with canoe, kayak, float tube and raft rentals along with a variety of guided river paddling trips. If you'd rather be your own guide, you can put a boat in at your campsite and explore the Hocking River at your leisure.
A Quiet Lakeside Retreat
Kiser Lake State Park is fairly small at just 531 acres, but this off-the-beaten-path park provides a wealth of opportunities to enjoy nature away from the crowds. Comprising a diverse landscape of forests, wetlands, glacial boulders and open water, Kiser Lake State Park is a dream come true for wildlife watchers. Kiser Lake provides a habitat for numerous native water birds, and the woods and wetlands support deer, foxes, turtles and numerous other creatures. Hikers can explore the park on five easy to moderate nature trails, and horseback riders can tackle the seven-mile Bridle Trail. Kiser Lake itself provides excellent fishing for bass and panfish, and boats are restricted to non-powered craft only, so you can paddle around the shore in peace and quiet without having to compete with motorboats or Jet Skis. Campers can choose among nearly 120 lakeside campsites. A few sites include electric hookups, but most are secluded non-electric campsites, perfect for tents and small pop-up campers.
References
Writer Bio
When Richard Corrigan isn't writing about the outdoors, he's probably outside experiencing them firsthand. Since starting out as a writer in 2009, he has written for USA Today, the National Parks Foundation and LIVESTRONG.com, among many others, and enjoys combining his love of writing with his passion for hiking, biking, camping and fishing.