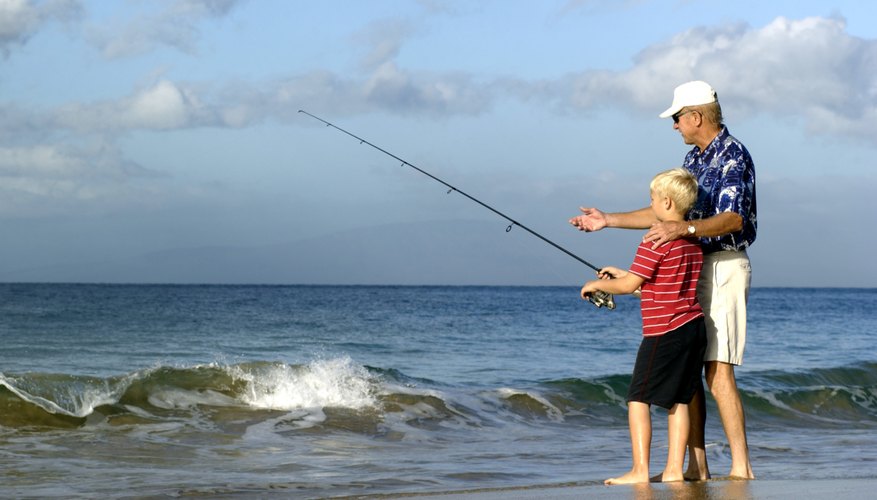 Not all saltwater fishing in Gulf Shores involves renting a charter boat to reel in a big catch. Anglers can fish right from the surf on the beach and still catch a worthy game fish. Depending on the time of year -- and anytime of year is good -- surf anglers can land a flounder, red drum or tuna. This is a popular beach area, so be mindful of beachcombers and search for out of the way spots, far from the throngs sun worshipers.
What to Catch
A variety of saltwater game fish can be caught from the surf in Gulf Shores. Some fish you may catch include amber or crevalle jack, blue fish, black or red drum and croaker. Other fish found is these Gulf waters are flounder, grouper, ling cobia, mahi mahi, king fish, king or spanish mackerel, pompano, red, grey or vermilion snapper, spot, sea trout, tarpon, triggerfish, tripletail, yellowfin or blackfin tuna and wahoo, though many of these species are more likely caught on a boat in deeper waters.
Bait
Surf fishermen need good bait to land large game fish. Live or frozen shrimp, squid and sand fleas all work very well. Soaking dead shrimp in salt water overnight to use as bait the next day is also effective. Using pieces of bait fish like cigar minnows, mullet and lady fish also produce lucrative catches. Shiny lures like shiny spoons and torpedo spinners work the best if not using live bait. Bait and tackle shops abound in Gulf Shores, as well as Orange Beach next door.
Equipment
Surf fishing requires different fishing gear than freshwater lake or river fishing. Surf anglers generally use longer rods that measure between 9 and 15 feet. The rod must be sturdy enough to handle heavy game fish and weights, and flexible enough to cast long distances over waves. Anglers also use saltwater line to combat the corrosive nature of ocean water. Surf fishermen use pyramid sinkers and anchor leads to keep bait from moving in heavy ocean currents. Anglers can also purchase a sand stake or spike to hold the rod and reel in the sand instead of having to hold it yourself.
Fishing Guides
If you find yourself standing out in the surf and becoming frustrated from not catching any fish, then Orange Beach Fishing Charters can help guide you to the right fishing spots. The company has fishing guides that can show you how to correctly rig, bait and cast your reel into the surf. The surf fishing guide can also help you buy the right bait, tackle and equipment for fishing from any area tackle shop.
License
Everyone between the ages of 16 and 65 needs a saltwater fishing license to surf fish in the state of Alabama. Alabama resident anglers can choose between the annual and the seven day licenses. Non-residents must purchase the seven day license. Prices for fishing licenses vary depending on state residencies. Most places that sell fishing supplies in the Gulf Shores/Orange Beach area also can provide you with a license.