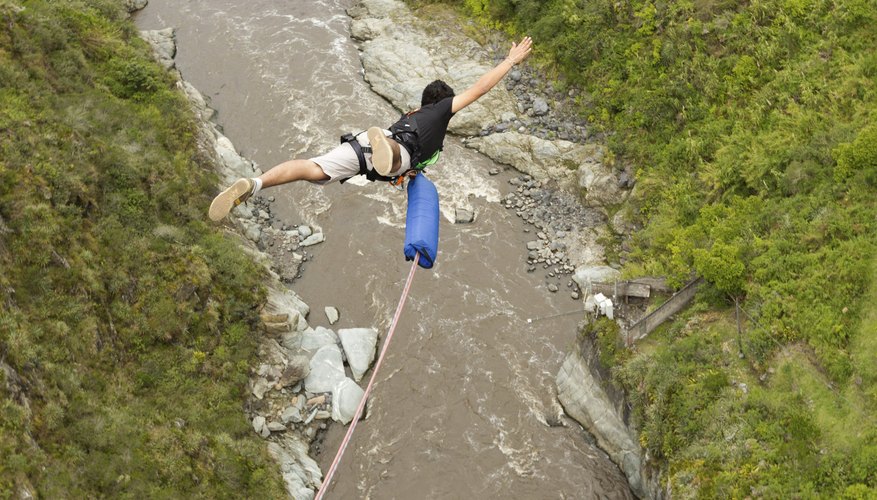 You can join organized bungee jumps at two sites in Washington state: the High Steel Bridge in Shelton and a private bridge in Amboy. Organized jumps are the safe way to experience this extreme sport, as highlighted by a man's near-death experience when his cord snapped during a 2009 jump from the Canyon Creek Bridge near Yacolt, Washington. Go with a reputable company, triple-check your buckles and you'll get a whole new perspective on the Pacific Northwest.
Amboy
Bungee Masters has access to a 200-foot high private bridge near Amboy, where you'll jump above a river, surrounded by a forest of pine trees. Located in southwestern Washington, this site is an easy day trip if you live in or are visiting Portland, Oregon. Jumpers may book a specific reservation time and can bungee year-round, but prepare for cold and damp if you're jumping in winter.
Shelton
Bungee Expeditions leads jumps off the High Steel Bridge near Shelton, a Puget Sound town that is a two-hour trip from Seattle. The bridge measures 365 feet high and is on a national forest development road. The company will not make the trip without at least 12 participants.
References
Writer Bio
Teresa Bergen writes about fitness, health, yoga, travel and the arts. She is the author of "Vegetarian Asia Travel Guide" and has written hundreds of articles for publications online and off. Bergen also teaches yoga, spinning and group fitness classes, and is an ACE-certified personal trainer.