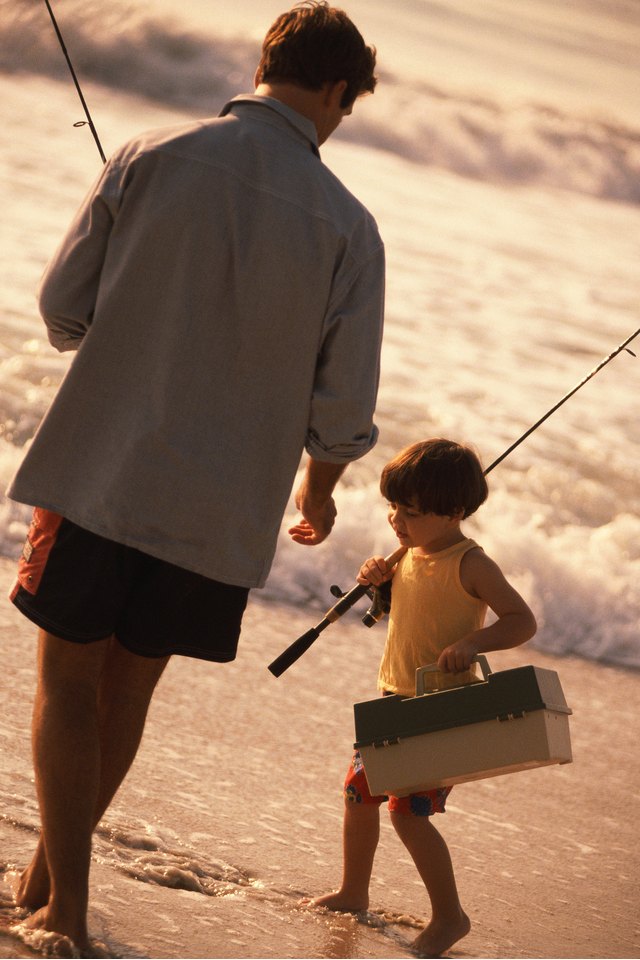 Extending more than 25 miles from Washington's southern border to the mouth of Willapa Bay, Long Beach is an unbroken stretch of coastline with some of the best saltwater fishing in the Pacific Northwest. You can catch a variety of fish right from shore. Surf fishermen from across the state come to fish Long Beach, wading out into the surf with long rods and heavy lines to catch fish from the coastal waters.
Fishy Business
The surfperch is the most common species in the Long Beach area and arguably the most sought after by anglers. Though not large -- surfperch typically max out at about 3 pounds -- they bite readily and make excellent table fare. Long Beach surf fishermen also catch flounder, rockfish, halibut and lingcod. Salmon are also seasonally available, swimming past Long Beach in early spring and late summer to make their annual spawning run up the Columbia River and other tributaries.
Tackle and Tactics
Live and natural baits are common choices for surf fishing, and shrimp, minnows and clam necks are all productive, especially for surfperch. Larger minnows and a variety of minnow-imitating artificial baits are useful for larger game fish. The best gear for surf fishing is a 10-foot rod with a sturdy spinning reel and 15-pound test line. This relatively heavy tackle helps you cast farther into the surf and is more resistant to sharp rocks and heavy currents. A large sinker below your bait also helps you cast farther. Surfperch bite best toward the end of an incoming tide and early in the morning under calm conditions. Perch tend to bite readily, so if you don't catch any after a few minutes, it's best to try a new spot.
Hitting The Surf
Long Beach is largely open to the public, and access is available in several small towns along the length of Long Beach Peninsula, including Oceanside, Ocean Park, Long Beach and Seaview. Driving onto the beach is legal, but be sure your vehicle can handle driving on sand so you don't get stuck. Three Washington state parks also provide access to Long Beach. Leadbetter Point, Pacific Pines and Cape Disappointment State Park are all popular surf fishing spots, and the parks provide amenities like parking, restrooms and picnic tables. Cape Disappointment State Park also has boat ramps, hiking trails and campsites for tents and RVs.
Keep In Mind
A current Washington saltwater fishing license is required for surf fishing at Long Beach. You can purchase a license online through the Washington Department of Fish and Wildlife website, or in person at most bait shops and sporting goods stores across the state. Statewide saltwater fishing seasons, limits and other regulations are in place. Regulations are subject to change, and the Department of Fish and Game publishes an annual guide that you can download free of charge from their website.
References
Writer Bio
When Richard Corrigan isn't writing about the outdoors, he's probably outside experiencing them firsthand. Since starting out as a writer in 2009, he has written for USA Today, the National Parks Foundation and LIVESTRONG.com, among many others, and enjoys combining his love of writing with his passion for hiking, biking, camping and fishing.