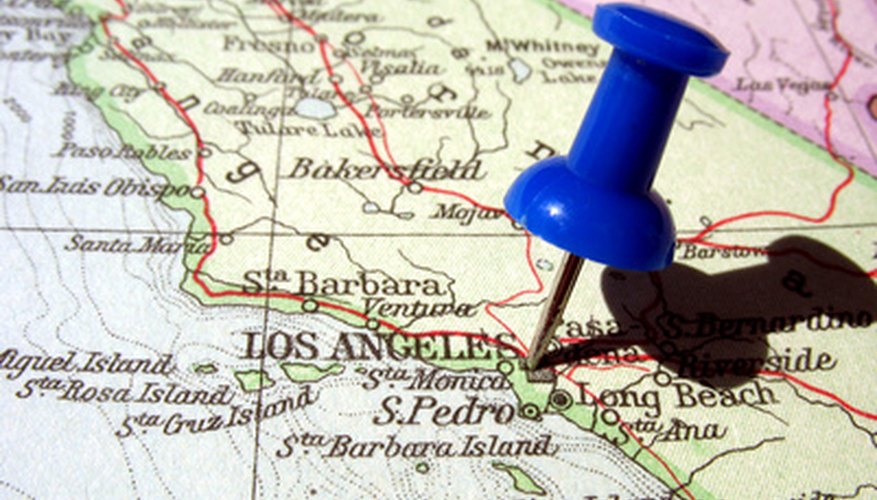 The Santa Fe Dam is located in southern Los Angeles County, in the city of Irwindale. It is surrounded by a large natural area that is maintained by the Parks and Recreation Department of California. Part of this park is a reservoir that is regularly stocked with game fish. Anglers can enjoy a quiet paddle across the waters of the Santa Fe Reservoir while casting for bass and catfish.
Santa Fe Dam Recreation Area
At the foot of the San Gabriel Mountains, the Santa Fe Dam Recreational Area is 836 acres of wilderness, 70 acres of which is a pristine lake that offers swimming, boating and fishing. The facility has a nature center, large picnic areas, a chlorinated swim beach and a water play area. Wheel Fun Rentals, at the Santa Fe Dam, rents bikes, wagons, fishing equipment and aluminum fishing boats.
Park Amenities
The park charges admission fees, vehicle entry fees and boat launching fees. No gas-powered boats are permitted; only electric motors are allowed on the lake. Among the amenities are the boat ramp; bicycle, equestrian and walking trails; rentals of kayaks, paddle boats and rowboats; swim beaches and youth group camping.
Fishing on the Reservoir
The Santa Fe Reservoir is stocked with 7-inch to 8-inch Rainbow trout. Some can reach 12 inches according to the GoFishN website. Catfish, largemouth bass and bluegill are also regularly stocked. Carp are known to be pulled from the waters here as well. A tackle shop, operated by Wheel Fun Rentals, is located within the park for anglers seeking that perfect bait.
Moonlight Fishing and Bird Walk
The Friends of Santa Fe Dam offer moonlight fishing expeditions. These family affairs take place on the last Friday of every month from April through September. All ages are welcome, call ahead for fee information and arrival/departure times. Other special programs include the monthly bird walk at 8 a.m. on the third Sunday of every month.
Licensing and Regulations
A valid fishing license is required by the state of California if you wish to fish at the reservoir. These are available for purchase at the park store and at Wheel Fun Rentals at the Dam. Check all state regulations before heading out to fish. Black largemouth bass must be no smaller than 12 inches for anglers to legally keep them. All rivers and lakes, including Santa Fe Reservoir, have a five fish per day bag limit in California. Only private ponds are exempt from the limit.
References
Resources
Writer Bio
Michaelyn Erickson has been writing since 2005 and has been published regularly in a variety of northwest publications. She has written a science fiction novel and is now working on a children's book series. Michaelyn attends Evergreen State College where she is pursuing a degree in sustainable living.