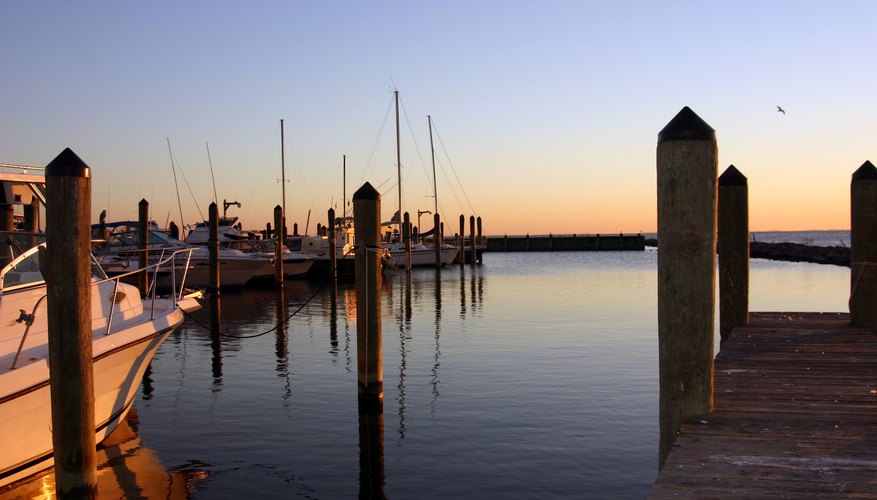 Numerous lakes, streams and rivers in and around the tidewater offer excellent choices for fishing in the Norfolk and Newport News areas in Virginia. Norfolk has 144 miles of shoreline, including Chesapeake Bay. Elizabeth River borders Norfolk on the west. These are two good fishing areas in the Hampton Roads area. There are five large areas for fishing in Newport News and four in Norfolk.
Lakes in Norfolk
In Norfolk, the upper half of Burnt Mills Reservoir has stumps and could damage your motor, so move slowly there. Lake Prince is an older lake where fishing is most productive in spring and fall. Bank fishing is restricted around the fishing station of Lake Smith. You can use motors less than 9.9 mph. Western Branch Reservoir is the deepest of the water supply reservoirs, at 35 feet, in Norfolk. Western Branch has the biggest fish in the area. The best angling occurs in spring.
Newport News Area Lakes
In the Newport News area, Lake Biggins public park allows fishermen to angle close to urban areas. The James River offers big-water fishing. Harwood's Mill has yellow and white perch. Lee Hall Reservoir is home to 15 fish species, including bass and sunfish. Fishing in Little Creek Reservoir is best along drop-offs and on or near points. You can rent boats on Lake Maury or bring your own electric motor, and only catch-and-release is allowed. Crappies and large-mouth bass are the most common catch there.
Types of Fish
Bass is the most prevalent type of fish you can catch throughout Virginia. Bass sizes are 12 to 15 inches. Fishermen also catch catfish, trout, crappies, walleyes, sunfish, pike and perch in Virginia's lakes and streams.
Weather
The Newport News area has a mild climate that allows outdoor activities all year. The rainiest seasons are spring and summer. Storms generally miss this area. Hurricanes sometimes brush Norfolk, which has a subtropical climate that produces hot summers.
Concerns
Lakes in the area are open from sunrise to sunset daily. Holders of fishing licenses in either Maryland or Virginia may fish in Chesapeake Bay and the Potomac River. Many ponds and reservoirs do not permit boats with gas motors. Motor speed restrictions exist in some fishing areas, and permits are usually required. Bass prefer artificial bait to other types of bait or lures.
Needed Permits/Licenses
You need a license to fish in Virginia unless you plan to fish from a commercial/recreational boat or from the banks of Assateague National Seashore Park. Most residents pay $30 per permit. These prices are for saltwater and freshwater fishing. Saltwater-only permits cost $12.50. If you are under 16 years old or over 65, you don't need a license to fish. If you only plan to fish for 10 days, the price drops to $5. Nonresident prices are double those for residents.