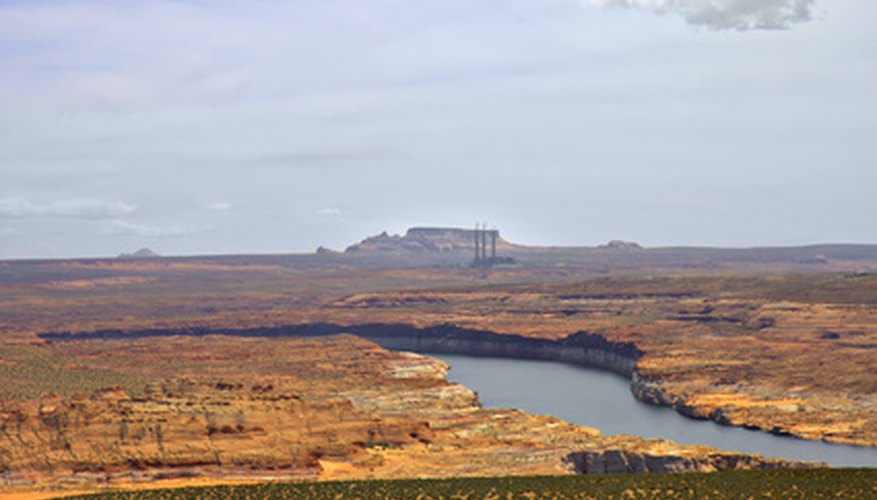 In the Great Plains, tall grasses and wildflowers turn to the sun and trees sprout up in precious oases along rivers that wind their way through the grasslands. The Great Plains cover most of the landscape in Texas, with areas dotted by canyons and rugged hills. This state also boasts 14 rivers and about 3,700 streams that cross the land and bring life to the stark geography of the Great Plains.
Geography
The geographical area of the Great Plains begins in Canada and reaches 2,400 miles south through the central states to Texas and finally into Mexico, according to the International Institute for Sustainable Development. The plains also stretch 1,000 miles from the Rocky Mountain foothills to Indiana. In Texas, the characteristic rolling grasslands that denote the Great Plains encompass all but the eastern and western edges of the state. As a result, most of the rivers flowing through Texas pass through some part of this ecosystem.
Brazos River
A total of 840 miles makes the Brazos River one of the longest rivers that travel through Texas. Entering the northwestern part of Texas, it flows through most of the state, including the Great Plains. In addition, three dams check the progress of the Brazos River at Possum Kingdom Lake, Lake Granbury and Lake Whitney.
Colorado River
Cutting through Texas, beginning on the western side of the panhandle, the Colorado River travels southeast 600 miles to the Gulf of Mexico. As the river passes through central Texas, it crosses much of the Great Plains and beautiful canyons before becoming a meandering stream, according to the Texas Parks and Wildlife Department. In the region south of Austin, agriculture depends heavily on the Colorado River.
San Antonio River
Another major river flowing through the Great Plains of Texas, the San Antonio River, starts in San Antonio. Following a 180-mile course, this river flows mostly along the coastal area in the southern Great Plains. Fed by many natural springs, the San Antonio River maintains its water flow even in dry seasons.
Red River
The second-largest river in Texas only to the Rio Grande, the Red River forms the border between Oklahoma and Texas. This river begins in the panhandle from two forks and crosses Texas before flowing south through Arkansas and Louisiana to empty into the Mississippi River. The Red River has also become a major recreational source in Texas, according to the Texas Parks and Wildlife Department.
References
Writer Bio
A Kansas-based writer, Alecia Stuchlik has been writing since 2007. Her articles have appeared in "K-State's Statements" and "Manhattan Magazine." She has a Bachelor of Arts from Kansas State University in anthropology and English.