•••
tents on the beach image by starush from Fotolia.com
Beach camping is a cheap way to spend the night in California, whether you're escaping for the weekend or travelling throughout the state. Campgrounds can be found the length of the California coast. If possible, you may want to arrive on Thursday evening to beat the weekend rush, though some campgrounds allow you to make reservations in advance. You must follow the rules in these venues and make sure you are properly prepared for a night away from most modern conveniences.
Point Reyes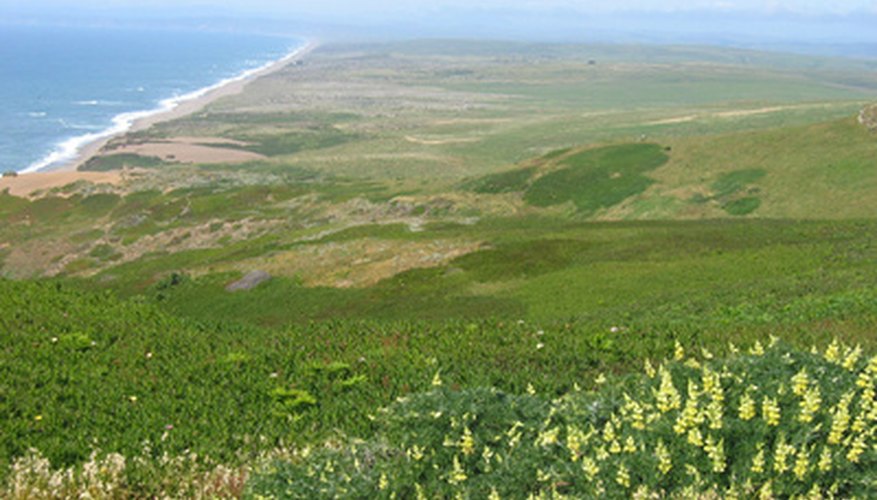 If you're starting your journey near San Francisco or if you're a local and want a few days away, the Point Reyes campgrounds are located 30 miles north of the city. Be prepared for a short hike once you park your car, as the nearest campground is 2.5 miles from the parking, with a two other sites 5 miles and 6 miles farther down the trail. The closest campground, the Sky Camp, charges a small fee, while the other two, Wild Cat Camp and Glen Camp are free. Reservations are required, as the Point Reyes campgrounds have only 36 places per night to offer.
Big Sur
•••
big sur image by Rainer Schmittchen from Fotolia.com
The Big Sur State Park, just down the coast from Carmel, offers many official campgrounds and plenty of free camping, if you're willing to look for the right places. Unsurprisingly, in this area of natural beauty, the established campgrounds can get very busy, especially in summer. Armed with a National Forest map, you can explore the dirt roads in the area and find yourself a free camping spot away from the crowds. You should make sure you arrive in daylight hours, rather than trying to find these hidden free campgrounds in the dark. Remember that these areas won't have toilet facilities and the access road may be of poor quality.
Malibu Creek
•••
kite surfing in malibu image by Eric Amos from Fotolia.com
Situated only 25 miles from downtown Los Angeles, the campgrounds located around Malibu Creek are ideal for a weekend getaway or as a cheap base for visiting the city. The park itself has plenty of attractions such as hiking, hunting and fishing. The main campground is open year round, but charges a fee between March and November, and is only 10 minutes by car from the beach. Pay showers and a laundry service make the campground one of the better-equipped in the region.
Rules of the Campgrounds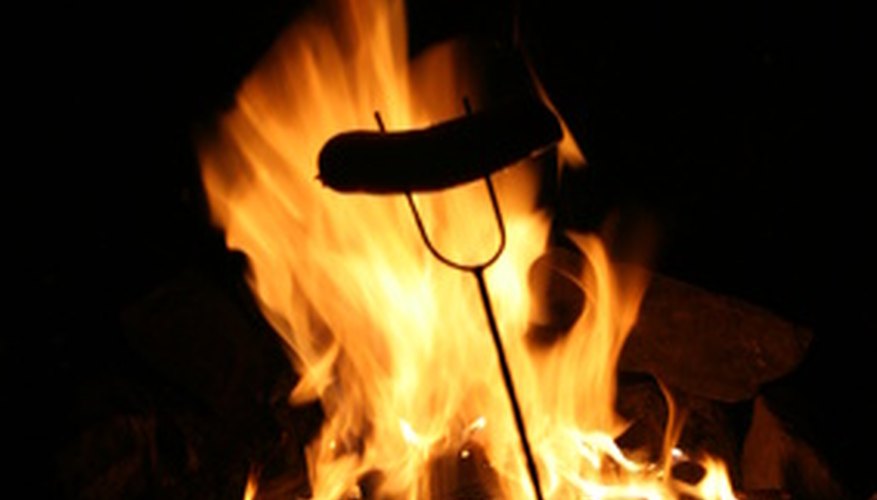 Anyone using Californian campgrounds, whether organized parks or free camping in the wilderness, must follow the rules, for their own safety and for the good of the environment. No open fires are allowed, with barbecues and cooking fires only allowed in very specific permitted areas. Visitors are not allowed to pick up dead wood from the forest floor and no plants or flowers should be disturbed. Dogs must be kept on a leash at all times and campers are still subject to the laws of the state, which forbid the carrying of pocket or folding knives.
Camping equiment
You'll need a good quality tent before setting off on a Californian camping holiday. You may find it tempting to just take a sleeping bag and sleep under the stars, but the state's strict homelessness laws mean this tactic could land you in trouble with the police. Make sure your backpack is comfortable to wear when loaded as you may have to hike for a few miles before setting up camp. While there are shops in many campgrounds for you to buy food and supplies, you should take the basics, such as toilet paper and water bottles along with you to save some money.