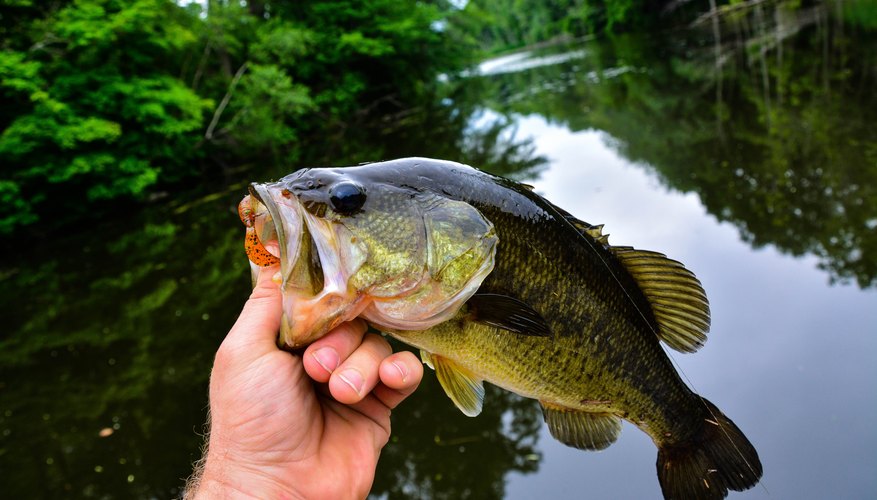 Washington's vast collection of lakes, reservoirs and rivers doesn't contain just salmon and trout. While it's true those species might be the more popular fish to catch in the waters of the Pacific Northwest, they aren't by any means the only fish. In fact, the bass fishing in Washington could compete with that of more popular bass fishing spots, such as those in the warmer waters of the Deep South.
Best Habitat
Largemouth bass live in warmwater lakes and ponds as well as quiet backwaters and sloughs of streams. They prefer clear water with good cover, such as weed beds, reeds, lily pads, or flooded snags and the entrances of beaver lodges. Smallmouth bass, while less abundant, inhabit cool, clear lakes and streams with rocky and gravelly bottoms. Both species are found in Washington State's waters.
Best Largemouth Lake
You can't miss fishing at Potholes Reservoir. While your day is filled with 2 and 3 pound beauties, a 6 or even 7-pound trophy bucketmouth is always possible. You can still enjoy peace and quiet no matter how many other boats are out on the 28,200-acre lake. The best action is by the many beaver huts sprinkled along the shoreline, each holding bass when they are exposed to water, which fluctuates year round. Minnows are attracted to the huts, which the bass gorge themselves on.
Best Largemouth River
Sometimes half the fun is getting there. Remotely tucked away in the northeastern corner of the state, Pend Oreille River is a fantastic place to hook bucketfuls of bucketmouths. Prior to moving downstream to spawn in deeper waters, largemouth bass gather to feed in quiet, warmer flats of 4 to 8 feet depth. Focus on any side channel with a variety of cover, such as submerged trees, hydrilla and lily pads.
Best Smallmouth Lake
The next time your commute snags on the 520 Floating Bridge, do a little daydreaming of snagging a beautiful bronzeback on Lake Washington. Smallmouths as large as 8.5 pounds have been wrestled out of the 22,138-acre crystal blue lake where they love to forage for crayfish and yellow perch. Lake Washington is the second-largest lake in the state. It borders Seattle and has plentiful fishing spots. Where the Sammerish and Cedar rivers flow in at opposite ends of the lake are two good places to cast your line.
Best Smallmouth River
If you can stay afloat on the hazardous Hanford Reach of the Columbia River, you will experience some of the best bronzeback fighting in the nation. Just below Priest Rapids Dam, the 51-mile long Hanford Reach is the last non-tidal, free-flowing stretch of the otherwise-contained Columbia River. The Washington state record smallmouth, weighing 8 pounds, 12 ounces, was taken from this stretch by a man wading off shore in water just 4 feet deep. The shoreline and islands are closed to the public except by permission of the Department of Energy. Boaters will fight strong eddies and crosscurrents, and the size and remoteness of the river means capsizing could be fatal. For a little slower pace, try the larger Wallula Pool, from Richland all the way down to McNary Dam.
References
Resources
Writer Bio
Brian Lewis began writing in 1998. His published works appear in the "Ellensburg Daily Record," "South County Journal," "Seattle Times" and "Northwest Anglers" as well as on ESPN.com. Lewis has written concert and travel reviews and poetry and short stories. He has a Bachelor of Arts in communications from the University of Washington.