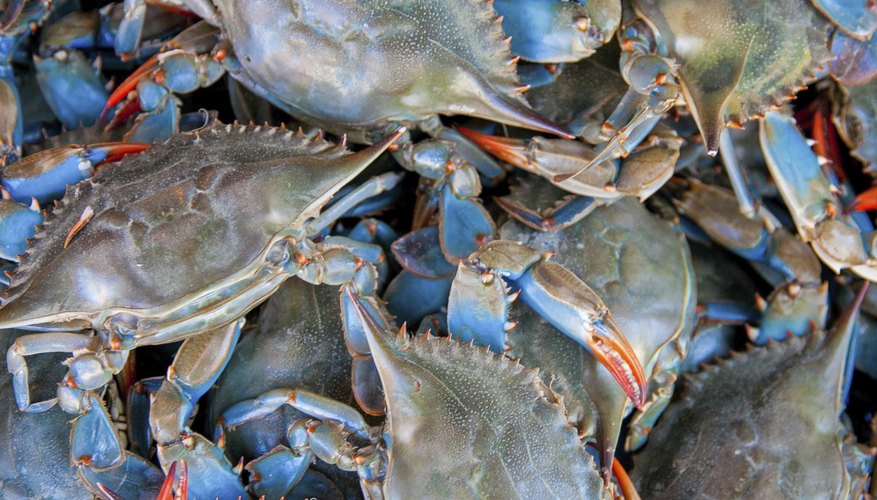 In Texas, the entire Gulf of Mexico offers access points for crabbing — from the shore, from piers, docks and jetties, or by boat in the deep blue waters that carve out the southern part of the state. Just be sure you understand the distinction between blue or blue claw crabs and stone crabs: You may catch blue claw crabs to your heart's (and stomach's) content, but there are rigid catch limits on stone crabs.
Identifying Blue Claw Crabs
As their name suggests, blue claw crabs are blue in color — the coloration often extends past the claw up the armature and to the legs. Females usually have a ruby red tip at the end of their claws. There is no legal limit to the number of blue crabs you may catch. However, blue crabs must be 5 inches wide at center body to keep, and you must return pregnant females — with a large orange mass on their underside, indicating eggs — to the water.
Gulf stone crabs are maroon-brown in color and their shells are more scalloped in shape than the sharp lance-like center of the blue claw. There are catch limits in place for these crabs: You may only keep the right claw of stone crabs if it is 2.5 inches measured from the tip claw to first immovable joint. You must return the rest of the crab to the water.
Best Times to Crab
Fish for blue crab from shore in the morning and evening, coinciding with the tides. During the day, the crabs take to the deep waters of the bay, so you'd need a boat to find the areas where they are most plentiful.
Crab from piers, jetties, docks and low bridges over channels leading to the Gulf. Blue crabs like sandy bottoms overgrown with ocean grasses for cover. Blue crabs are bottom dwellers, so that is where you'll have to set the bait. From shore, some specific spots for crabbing are Pointe West, Rockport and Crab Lake in Galveston County.
Best Blue Crab Bait
Blue crabs are scavengers and will eat most anything in their natural habitat, from sea worms to small fish, mollusks, decaying fish and even smaller crabs. When crabbing, though, help lead them to their meals. Bait your traps with the most oily, smelly fish heads or chicken necks you can find. Blue crabs can see up to 20 to 30 feet, depending on water clarity, but they hunt their prey by smell. Their two long antennae are smell probes; the smellier and more oily the bait, the better they can sense it, and the better your catch.
Crabbing Gear
Many crab fishermen in the Gulf use crab pots; however, easier and less expensive hoop traps, box traps and pyramid traps are commonly used wherever blue crab are fished. Of the three, pyramid traps are the most simply designed and less likely to tangle when retrieved. Some fishermen put the bait in a metal cage to keep the crab in the trap longer, working to get at his meal.
Licenses and Regulations
Residents age 17 and older are required to purchase an annual saltwater fishing license to crab fish in the Gulf. A freshwater license (for crabbing off-bay) requires a license, or you may get an all-water license. You're limited to using six traps at a time if fishing recreationally, and you may need gear tags for your traps. In select areas, such as near navigable channels, you may be limited to three traps. Fishing license packages are available online from the Texas Parks & Wildlife official site. Non-residents may purchase a one-day license and add days for additional fees.
References
Resources
Writer Bio
Chuck Ayers began writing professionally in 1982, breathing life into obituaries, becoming a political and investigative reporter at a major East Coast metropolitan newspaper. He now freelances and is a California communications and political consultant. He graduated from American University, Washington, D.C., with degrees in political science and economics.