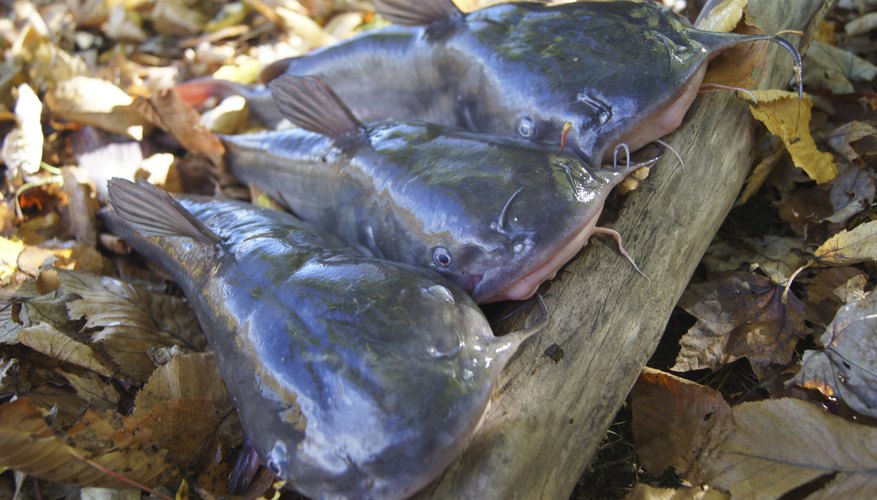 Texas offers some of the most productive freshwater fishing in the country, and some of the fish the state is known for are catfish. Prized for their table quality and potentially massive size, catfish are regularly sought by anglers. You can catch several species of catfish in the state's waters, but be sure to brush up on Texas fishing regulations before you wet a line in the Lone Star State.
Species and Identification
Blue, channel and flathead catfish are the most commonly sought catfish species in Texas. Flathead catfish are easily identified by their brown color and flattened heads. Blue and channel catfish are similar in appearance, though channel catfish are grey, while blue cats tend--as their name suggests-- to be blueish in color. Channel catfish also have a few dark spots on the body that blue catfish lack. Blue catfish are the biggest, occasionally exceeding 100 lbs., while channel and flathead catfish generally top out at 50 lbs. Bullhead catfish also exist in Texas; these are far smaller, rarely exceeding 3 lbs., but can be caught in great numbers, especially in spring.
Statewide Limits
Catfish season is open year round in Texas. You can keep as many as 25 blue and channel catfish--in any combination--from Texas waters in a day of fishing; the minimum size for both species is 12 inches. Flathead catfish are limited to five per day, with a minimum size of 18 inches. Bullheads are not regulated.
Exceptions
Some waters have rules that differ from statewide regulations. Channel and blue catfish are under a five-fish combined daily limit in a number of waters, though these waters typically have no length limits. Most lakes and ponds under 75 acres are considered "Community Fishing Lakes," and are under these regulations. A complete list of exceptions to statewide limits is available on the Texas Parks and Wildlife Department website.
Trotlines, Throwlines and Juglines
A trotline is a fishing line with more than five hooks, with each end attached to a fixture, usually on either side of a lake or river. A throwline is a fishing line with no more than five hooks that is attached at one end to a permanent fixture. A jugline is a fishing line with no more than five hooks tied to a free-floating device, such as an empty jug. These devices are allowed as methods of catching catfish on most Texas waters. Trotlines may be no more than 600 feet long, and may not have more than 50 hooks on any one line.
Licenses
You must have a valid, current Texas fishing license to fish for catfish anywhere in the state. Licenses are available at bait shops and sporting goods stores statewide, and may also be purchased through the Texas Parks and Wildlife Department website.
References
Resources
Writer Bio
When Richard Corrigan isn't writing about the outdoors, he's probably outside experiencing them firsthand. Since starting out as a writer in 2009, he has written for USA Today, the National Parks Foundation and LIVESTRONG.com, among many others, and enjoys combining his love of writing with his passion for hiking, biking, camping and fishing.