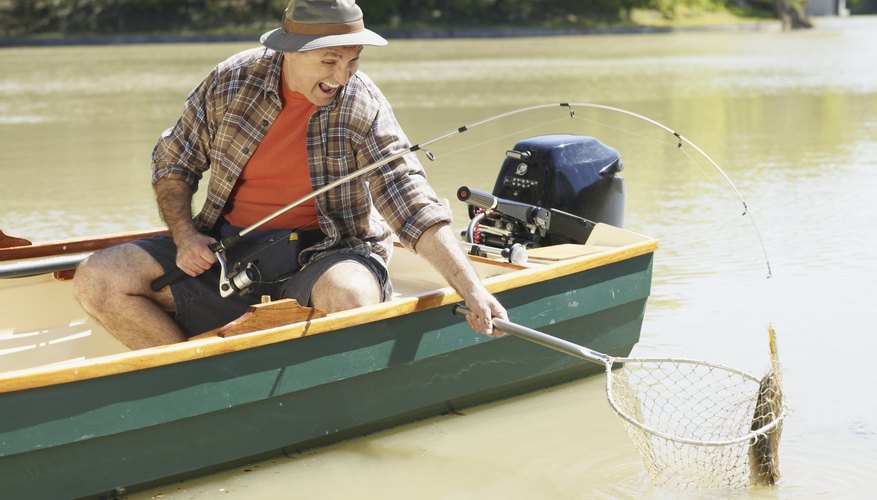 Walleyes are the state fish in Minnesota, but bass are one of the most sought after. Lakes from north to south in the state boast of plentiful bass populations. Anglers enjoying bass fishing because they are spirited fighters that, generally, are not especially difficult to locate and catch.
Significance
Bass are among the most popular game fish in the United States. While they play second fiddle to the walleye in Minnesota, there is a large contingent of fishermen who focus on bass throughout the state. Many lakes in Minnesota offer good bass fishing, as bass are an adaptable species and can be found in the deep, clear waters of the northern part of the state to the fertile, shallow waters of the south.
Time Frame
The best time of year for catching bass in Minnesota is when they are spawning in shallow, which occurs when the water is in the mid-60s in the spring or early summer. Lakes in the southern part of the state warm first, followed by those in the central part of the state and then those in the north. The best bass fishing lakes in the spring have hard-bottomed bays that are protected from the wind. Bass spawn in shallow water around cover, whether that be emergent vegetation or boat docks.
Best Lakes
The Alexandria Chain of Lakes in west-central Minnesota, which includes lakes Carlos, Darling, Geneva, Le Homme Dieu and Victoria, offers an abundance of bass-fishing opportunities. One of the most popular tournament destinations, the lakes draw people through the open-water months to target bass. Two of the main locations to search for bass are underneath boat docks – the shorelines of all lakes on the chain are heavily developed – and along deep weedlines. Soft plastic baits fished on lead-head jigs are good options in both deep and shallow water.
If there is one lake in the state that is synonymous with bass fishing, it is Lake Minnetonka, which is located on the western side of the Twin Cities. There may not be a better lake in the state for catching a trophy bass, which, in Minnesota, is anything above about 5 pounds. Boat docks are the key form of shallow cover in Minnetonka. But the lake is best known for its milfoil, which is a type of vegetation that grows thick and attracts bass. Cast crankbaits along the edges of milfoil beds, or tie on a jig or worm and pitch the lure into holes and pockets.
On many lakes in Minnesota, the best bass fishing – especially during the summer months – is in deep water. That's not the case on Leech Lake, where the best bass fishing can be had in the shallow waters of the lake's many bays. The primary cover type is wild rice. The fish can be scattered throughout the rice beds, but your best bet is to focus on edges or irregularities in the rice (holes and other spots where the rice grows especially thick or especially thin, for example). Weedless spoons are a good choice for fishing through the rice, as are topwater baits like plastic frogs.
The northeast part of the state isn't often mentioned as a bass destination, but Lake Vermilion is one of the best bass lakes in the state. It has smallmouth and largemouth bass, though the former are especially abundant and grow to large proportions. Focus either on rocks or on the boat docks that ring the shore of the lake. Good lures for both spots are mushroom-head jigs tipped with a 4-inch plastic worm, or a crankbait that dives deep enough that it drags along the bottom when you reel it in. Crayfish are the primary smallmouth forage in Lake Vermilion, so use brown or orange colors to replicate their natural prey.
Misconceptions
You do not need to fish on a well-known lake in Minnesota to catch bass. Many anglers likely would say their best bass lakes are those that are small and that do not receive heavy fishing pressure. There are small waters scattered throughout Minnesota that may not be well-known, but that produce lots of bass. Consider that the current Minnesota state record largemouth came from Auburn Lake, which is a small lake on the western edge of the Twin Cities that doesn't receive much fishing pressure. Other small, but productive, lakes include Bush Lake in Hennepin County, Prior Lake in Scott County, and Lake Vermont in Douglas County. In choosing a small lake, look for places with an abundance of shallow cover.
Warning
You need a fishing license to fish for bass in Minnesota. Licenses are available to residents and non-residents for a variety of time lengths – from one day to one year. The statewide regulation allows anglers to keep as many as six bass per day. However, some lakes have different regulations, so check the Minnesota fishing regulations booklet to make sure the lake you are fishing doesn't have a special bass regulation.
References
Resources
Writer Bio
Larry Anderson has been a freelance writer since 2000. He has covered a wide variety of topics, from golf and baseball to hunting and fishing. His work has appeared in numerous print and online publications, including "Fargo Forum" newspaper. Anderson holds a Bachelor of Arts in print journalism from Concordia College.