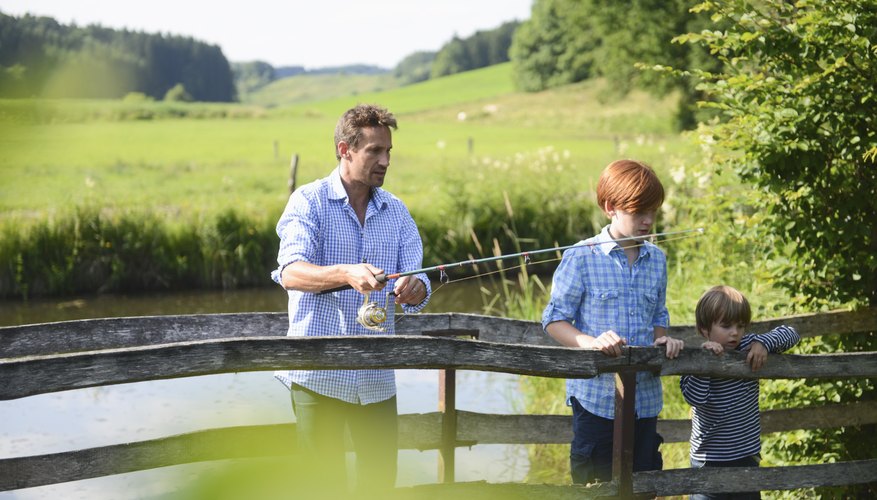 Minnesota, which aptly calls itself the "Land of 10,000 Lakes," has more fishable water than could be explored in a lifetime. But don't let that deter you from dropping a line--and just be sure to acquaint yourself with the state's fishing limits before you do. It's important to know how many fish you can keep, how big they have to be and when you can fish for them.
Walleye and Sauger
Fishing season for walleye and sauger is May 15 to Feb. 11, as of 2010-2011. The combined species daily limit on walleye and sauger is six. Sauger may be kept at any size, but the minimum size for walleye is 15 inches, and only one walleye may be 20 inches or larger.
Northern Pike
The season for northern pike in Minnesota is the same as that for walleye and sauger. The daily limit is three northern pike. There is no minimum size for pike in 2010, but you may keep only one fish over 30 inches.
Muskie and Tiger Muskie
As of 2010, the fishing season for muskellunge and tiger muskellunge (a hybrid of muskie and northern pike) is June 5 to Dec. 1. The combined species daily limit is one fish, and the minimum size is 48 inches, although certain lakes have a 40-inch minimum.
Largemouth and Smallmouth Bass
Fishing for largemouth and smallmouth bass opened on May 15 in 2010, north and east of U.S. Highway 53 and in Pelican and Ash Lakes in St. Louis County. Everywhere else in the state, the season opened on May 29. The season closes on Feb. 27, 2011. Smallmouth bass are catch-and-release only after Sept. 13. The daily limit for both species combined is six, and there are no size restrictions.
Panfish
This group includes crappie, all species of sunfish, yellow perch, rock bass and white perch. Fishing season for these species is year-round, with no restrictions on length, but daily limits vary. Anglers in Minnesota may keep up to 10 crappie, 20 sunfish, 20 yellow perch, 30 rock bass and 30 white perch daily.
Stream Trout
Limits on stream trout, which include splake, brook, brown and rainbow trout, are highly variable across Minnesota. In most waters, fishing for stream trout is open from April 17 to Sept. 30, with a combined daily limit of five fish, only one of which may surpass 16 inches. In Houston, Fillmore, Mower, Dodge, Olmsted, Winona, Wabasha and Goodhue counties, stream trout fishing is catch-and-release only from April 1 to 16 and from Sept. 15 to 30.
Regulation Changes
Some limits change from year to year. Check the Minnesota Department of Natural Resources website for updates The department publishes a new guide book every year, which is available for free at most bait and tackle shops and can also be downloaded from the DNR website.
Writer Bio
When Richard Corrigan isn't writing about the outdoors, he's probably outside experiencing them firsthand. Since starting out as a writer in 2009, he has written for USA Today, the National Parks Foundation and LIVESTRONG.com, among many others, and enjoys combining his love of writing with his passion for hiking, biking, camping and fishing.