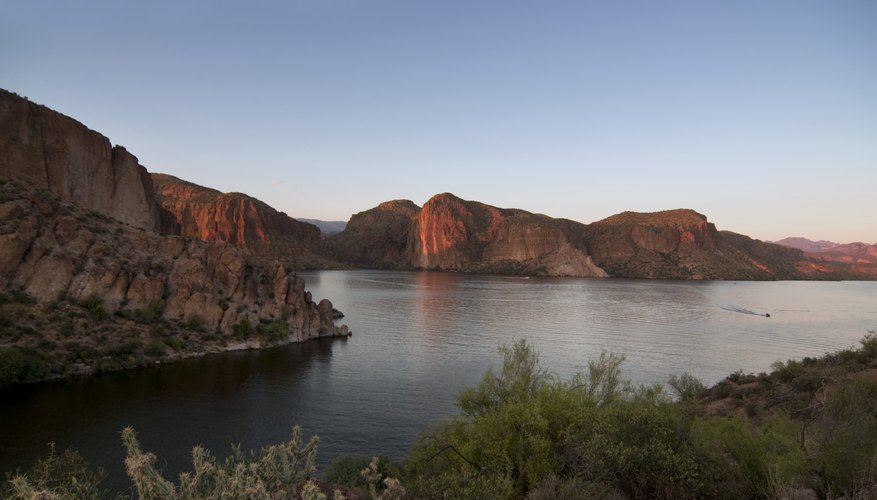 Abundant catfish live in Arizona's warmer desert lakes and rivers. They thrive not only in rural waterways, but also in the Phoenix and Tucson metropolitan areas' many man-made lakes, which the Arizona Game and Fish Department routinely stocks with catfish and trout throughout the year. You don't need to be an expert to have success fishing for catfish. The two primary species of catfish in Arizona are voracious eaters and, during feeding hours, they'll bite at almost any bait, dead or alive.
Species in Arizona
Channel catfish and flathead catfish live in Arizona's waterways. Channel catfish, the smaller of the two species, prefer warm lakes and rivers. Channel catfish on average are 10- to 39-inches long and weigh up to 15 pounds. Flathead catfish live in Arizona's desert rivers. They prefer to eat live food -- mostly other fish and insects -- and grow large. Flatheads are typically 12- to 52-inches long and weigh up to 65 pounds. The largest fish ever caught in the state, reports the Arizona Game and Fish Department, was a 74-pound behemoth caught in the Colorado River in 1998.
Lakes and Rivers
Channel catfish can be found in most of the major desert lakes, including all of the Phoenix metropolitan area's major reservoirs -- Canyon, Apache, Roosevelt and Bartlett lakes and Lake Pleasant. Additionally, the Arizona Game and Fish Department stocks 16 lakes and ponds in the Phoenix area and four lakes and ponds in the Tucson area with channel catfish every other week between late March and early November. Flatheads can be found in the Salt, Verde, Gila and Colorado rivers and their tributaries.
License Regulations
You'll need a license to fish in Arizona if you're 14 or older. Arizona offers both one-day and five-day licenses to non-residents. You can buy licenses from most Arizona sporting good stores and at Arizona Game and Fish Department offices. Arizona fishing licenses are valid at all state lakes, rivers and reservoirs except lakes and ponds managed under the state's urban lake program. To fish at these lakes, you'll need to buy an urban fishing license. The 20 lakes covered under this program are identified in the annual Urban Fishing Program guide, available on the Arizona Game and Fish website. You may keep up to 25 catfish daily, under state law at most lakes and rivers. Anglers at the urban waterways may keep four catfish from lakes and two from ponds.
Best Baits
Channel catfish will eat almost anything, so go with what your budget allows. If it'll stick to a hook, give a shot. Arizona Game and Fish recommends hot dogs, worms, anchovies, shad and shrimps. Flatheads prefer live bait such as sunfish and carp. Arizona has special laws regarding live bait -- releasing unused live bait into a lake or river is illegal. You can find the complete list of guidelines in the state's fishing regulations publication, available on the Arizona Game and Fish Department website.
Where and When to Fish
Both species of catfish feed actively at night, making evenings the best time to fish for them. Channels tend to like the deep spots of lakes. In rivers, they congregate in deep areas with moderate currents. Look for areas of the river with light ripples and fish there. Flatheads congregate near the base of dams and in deep river pools, often where there's lots of vegetation or rocky covering.
Writer Bio
Ed Baker has worked in the publishing industry since 1994. He is currently an editor and writer based in the Southwest. He previously served as an investigative politics reporter for the "East Valley Tribune" in Mesa, Ariz. He earned his Bachelor of Arts in journalism from Arizona State University.