•••
Design Pics/Design Pics/Getty Images
Across the state of New Jersey, the state park system provides many areas where visitors can escape the summer heat and enjoy a refreshing swim. From north to south are lakes, reservoirs and ocean bathing areas maintained by the New Jersey Department of Environmental Protection's Division of Parks and Forestry. Each swimming area features the benefits of the park it's housed within, whether in the mountains, the pine barrens, or the coast.
Before You Go Swimming in New Jersey State Parks
Almost all New Jersey state parks charge a minimum daily parking use fee. Lifeguards are on duty from Memorial Weekend to Labor Day. Most swimming areas have restrooms, showers, concession stands and showers. Flotation devices such as rafts and tubes are not permitted and neither are pets. Many of the swimming areas are adjacent to play and picnic areas. Keep in mind that all New Jersey state parks have a "carry-in, carry-out" policy, which means visitors are required to take their garbage out of the park with them when they leave.
Lake Swimming in New Jersey State Parks
Whether fed by underground springs or mountain streams, the lakes in New Jersey state parks are cool and clean. Bass River State Forest, located in Tuckerton, covers an area of both Burlington and Ocean counties and offers swimming in Lake Absegami. Belleplain State Forest in Woodbine stretches through Cape May and Cumberland counties, with swimming on one end of Lake Nummy. Middlesex County has swimming in Hooks Creek Lake, inside Cheesequake Park in Matawan. Sussex County's High Point State Park cools bathers in spring-fed Lake Marcia. Sussex County's expansive Stokes State Forest also offers swimming in Stony Lake. Hopatcong State Park in Landing contains a swimming area in Lake Hopatcong. In Pittsgrove, visitors can swim in Parvin Lake, which is part of Parvin State Park.
Bergen and Passaic counties share Ringwood State Park which also features a spring-fed lake, Lake Shepherd. In Swartswood, bathing is permitted in Swartswood Lake inside Swartswood Park. Located in Passaic County's town of Hewitt, Wawayanda State Park has a beach area on the lake. Wharton State Forest, which spreads through Atlantic, Burlington and Camden counties features the Atsion Recration area in Shamong Township. There, visitors can cool off in the waters of Lake Atsion.
Ocean Swimming in New Jersey State Parks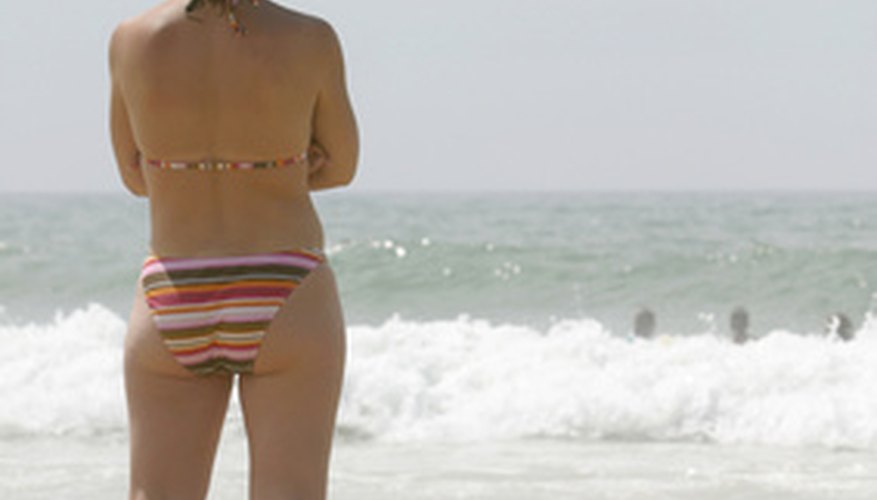 Famous for its ocean resorts, New Jersey's coastline in dotted with beachside communities. Access to the beaches is controlled by local towns and a few private interests. However, New Jersey maintains a large ocean-side state park on Long Beach Island, not far from Seaside Heights. At Island Beach State Park, a mile-long designated swimming area is protected by trained lifeguards. On site are also changing areas, rest rooms and concessions. This beach is so popular, the park fills to capacity by early morning on most summer weekends.
Reservoir Swimming in New Jersey State Parks
•••
View across the reservoir image by dorsph from Fotolia.com
The Round Valley Recreation area around the Round Valley Reservoir in Lebanon has a swimming area. On the west side of the reservoir, an earthen dam was constructed to virtually separate the swimming area from the rest of the reservoir – which reaches depths of almost 180 feet.
The Spruce Run Recreation area is located on one of the state's earliest water facilities and has more than 15 miles of shoreline. Swimming is permitted at the designated beach area only.
Other Ways to Enjoy the Water in New Jersey State Parks
In addition to designated swimming areas, many New Jersey state parks also allow boating, waterskiing and fishing. Hiking trails often wind around the lakes, offering spectacular views. Picnicking and camping are permitted, with fires and barbecues in designated areas. Check the website of the individual park before you go, to see what activities are offered.
Design Pics/Design Pics/Getty Images