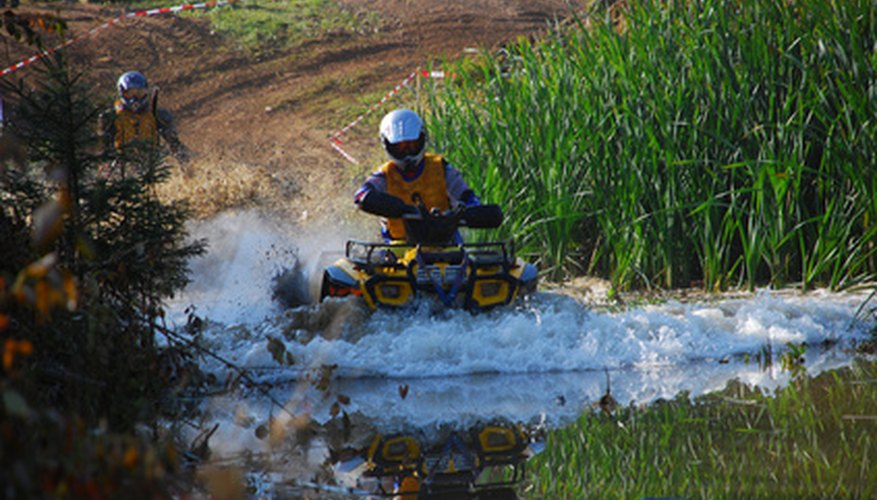 The Honda Foreman is an all-terrain vehicle meant primarily for recreational use. Its four-wheel design gave consumers the ability to use the vehicle for sport or utility.
Performance
In 1999, Honda's 450S Foreman had a 432 cc, single-cylinder engine. The final compression ratio was 8.5:1. The engine was air-cooled. A five speed, automatic transmission was standard.
Wheels and Suspension
The Honda 450S Foreman featured 12 inch by 6-inch wheels mounted on Dunlop 25x8-12 inch tires for front drive duties. The rear wheels were 12 inch by 7.5 inch and matched with Dunlop 25x10-12 inch tires. Drum brakes were used in the front and rear wheels, the front being a hydraulic type and rear being mechanical. Front suspension was a double wishbone that allowed for 5.9 inches of travel, while the rear suspension was a swingarm design that also allowed for 5.9 inches of travel.
Body
The Honda Foreman 450S was built with a length of 77.2 inches, a width of 45.5 inches and height of 45 inches. The wheelbase was 50.0 inches, while ground clearance was 7.6 inches. The weight of the Foreman without fluids and fuel was 586 pounds and it had a capacity of 485 pounds.
References
Writer Bio
Matt Wooddy has been a freelance writer since 2006. His work has been featured in local and national audio magazines. Aside from graphic design and illustration work, he has also taught several classes on painting and drawing basics. Wooddy is also a DJ and technical engineer.