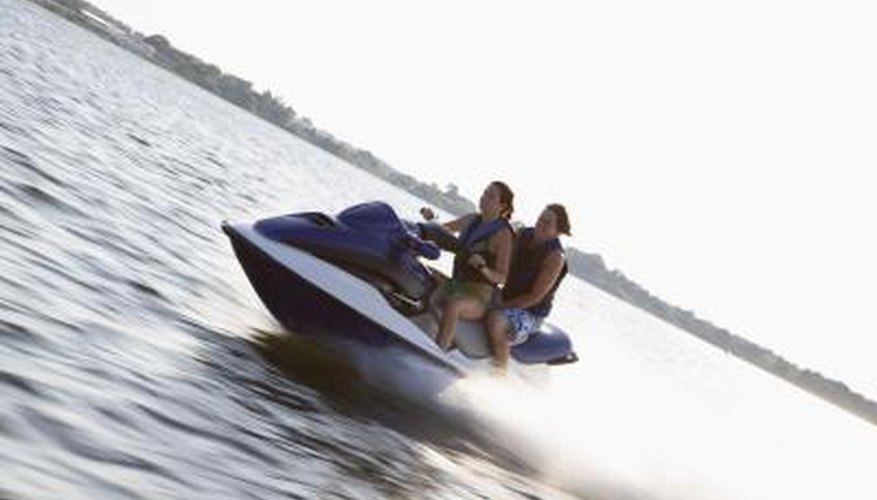 Bombardier Recreational Products has been developing watercraft vehicles since the late 1960s. The Sea-Doo GTI jet ski was introduced in 1996. The 1996 Sea-Doo GTI offered seating for three, a rear grab handle and numerous other specifications that consumers found attractive and necessary for riding the waves.
Engine
The 1996 Sea-Doo GTI 130 had a 718 cc, two-cylinder, Bombardier-Rotax 717 engine with an output of 46.8 horsepower. The bore and stroke was 3.2 inches by 2.7 inches, and the compression ratio was 6.2-to-1. The engine was water-cooled and water-injected.
Fuel Data
The 1996 Sea-Doo GTI was equipped with a fuel tank reserve and electric fuel gauge. The fuel tank had a 12-gallon capacity and required unleaded gas. The GTI had a maximum fuel consumption of 9.3 gallons at wide-open throttle. The tank held enough gas to cruise for 65 minutes at full throttle and an additional nine minutes on the reserve tank.
Propulsion
The propulsion system in the GTI consisted of an axle-flow, single-stage Bombardier Formula Pump with a direct drive transmission. The impeller rotation on this jet ski moved in a counterclockwise direction, and the stainless steel impeller measured 5.5 inches in diameter. In order to propel properly, the 1996 GTI had to be operated in no less than 35 inches of water.
Dimensions
The overall length of the 1996 Sea-Doo GTI was 119 inches, the width was 46.8 inches and height was 37.4 inches. The dry weight of the GTI was 485 pounds and it could accommodate a maximum load of 496 pounds.
References
Writer Bio
Julie Duncan has worked in the legal profession for over 15 years as a paralegal, owner of a court reporting business and now a law graduate. She was also recognized for her research and writing by the South Carolina Political Science Association in 2006.