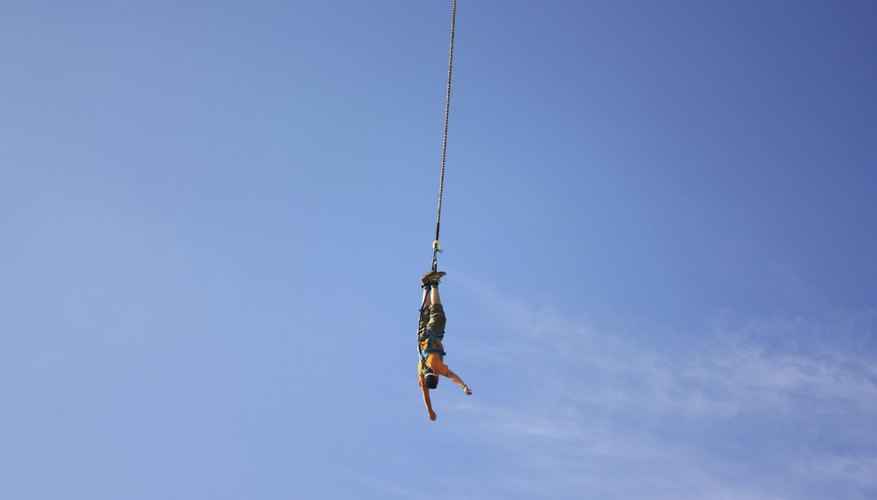 Shooting through the air like a bird is a dream many people have. With a bungee jump this dream does come true--at least for a few seconds until the rubber rope, that is attached to you, stops the fall. Leaping down a bridge or tower, secured only by a thick elastic cord, the so-called bungee, is an exciting pastime for thrill-seekers. In the Sunshine State, a few venues in northeast and central Florida offer this adrenaline rush.
The Track Family Recreation Center in Destin
In Destin, you can take a plunge from a dedicated bungee jumping tower at the Track Family Recreation Center, a small amusement park on Highway 98. The platform is 75 feet high, and jumpers fall into a large air bag--placed right below the tower--before the elastic rope bounces the jumper back into the air. Regulations require riders to weigh between 80 and 240 pounds. If you're younger than 18 years you need a legal guardian to sign an approval form before you can take a flying leap.
Cobra Adventure Park in Panama City Beach
The beachside amusement park Cobra Adventure Park is home to the Vertical Accelerator Bungee Ride. This Panama City attraction shoots you up into the sky to enjoy a 160 foot free fall. A snowmobile racing ride--rather unexpected in Florida--and the Max Flight Simulator are among other rides featured at Cobra Adventure. The park is open year-round.
Super Shot in Old Town Kissimmee
Kissimmee's Old Town, an entertainment, carnival and shopping area, features the Super Shot. This ride drags participants about 150 feet up before dropping them suddenly. An experience for two people is offered. In this tandem bungee jump, two partners are strapped side by side before they leap off of an 80 foot bungee tower together. The theme park has many other rides and adventure activities.
Tips
For your safety it is crucial that the length of the bungee is adjusted accurately. To determine the cord's length, your height and weight including the weight of the safety harness need to be measured at the bungee jump venue of your choice. This is not the place to be particular about your size--if the cord is too long, you are running the risk of hitting the ground.
Listen closely to the bungee facility's operations staff and make sure that you understand all the instructions. Ask all questions you might have before you jump, even if they might sound silly to you.
Warnings
The leap down a bungee tower or bridge can put serious strain on your ankles, back and neck; and the adrenaline rush might be too severe to handle for some people, particularly those with known heart conditions. Talk to your doctor before considering a bungee jump to make sure the adventure won't interfere with your health.
References
Writer Bio
Based in the Tampa Bay, Fla., area, Alexandra Becker has been a full-time writer with a focus on sports, travel, science and health-related topics since 1996. Her work has appeared in a variety of national and international magazines, newspapers and online publications. She has won two journalism awards.