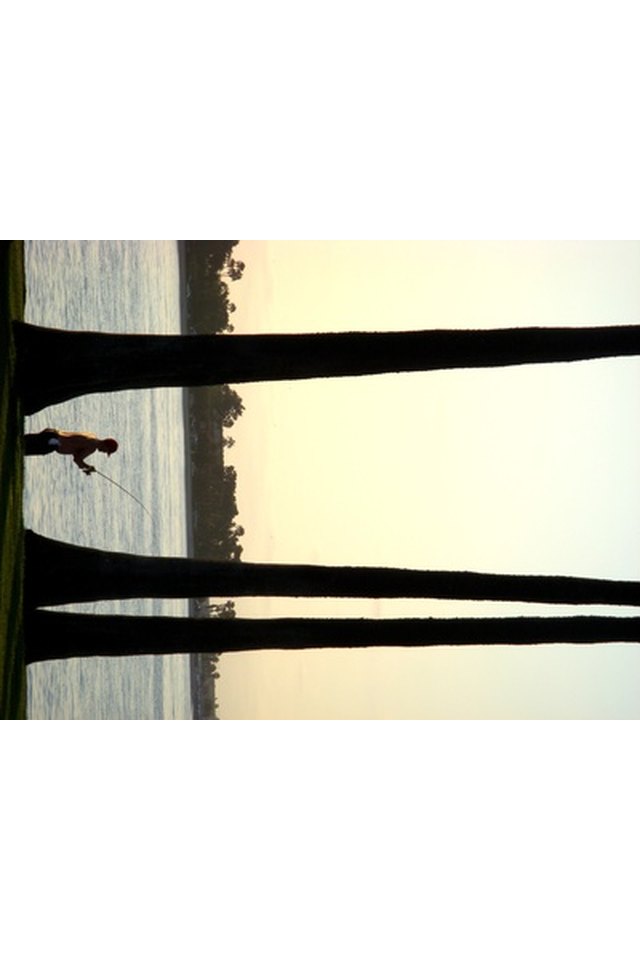 Texas contains more than 80,000 miles of rivers and streams. One of the more popular waterways for fishing and camping is the Brazos River that runs through the center of Texas from north to south. The Brazos is home to Stephen F. Austin State Park in the south, Fort Griffin State Historical Site in the north as well as numerous municipal and privately owned camping and fishing locations. While most locations require a fishing license, at least one does not. A fishing license to fish any of the lakes and streams along the river is $30 for residents in 2010 and $58 for non-residents.
Location
The Brazos River runs for 840 miles and is formed by two branches, Double Mountain Fork, which begins near Lubbock in west Texas and the Salt Fork which begins in the Texas panhandle. The two branches meet at Graham and flow southeast into the Gulf of Mexico near Houston.
Stephen F. Austin State Park
Stephen F. Austin State Park was founded in 1940 and is located less than an hour's drive west of Houston. As of July 2010, there is a $2 per person per day activity fee charged to access the park. The park has 40 RV campsites with water, electricity and sewer hookups. These cost $20 a night to use in July 2010. There are also 38 water-only campsites that cost $15 a night to use. There are also 20 screened-in shelters that can be rented at $25 per night. Besides fishing and camping, the park features ample hiking and wildlife viewing opportunities.
In 2010, according to the Texas Parks & Wildlife website, visitors to this state park do not have to have a fishing license to fish. Catfish are the most commonly caught fish out of the Brazos at Stephen F. Austin State Park.
Fort Griffin Historical Park
Fort Griffin State Historical Park is administered by the Texas Historical Commission and has 28 campsites as well as primitive camping available on a 5-acre area along the Brazos River northeast of Abilene. The park has an access fee of $4 for adults and $3 for students. Fishers have access to the Clear Fork of the Brazos River but are required to have a state fishing license. In July 2010, primitive camping was $10 per night, campsite camping was $12, sheltered camping was $27, RV camping was $22 for full hookup and $15 for water and electric only. Besides fishing and camping, the site is a historical location featuring an 1867 U.S. military fort. Reenactments and museums are a key draw to this site.
Lakes
There are three lakes formed by dams on the Brazos River; Possum Kingdom Lake, Lake Whitney and Lake Granbury, and most sites at these lakes require no entry fees for fishing or camping.
Lake Whitney is located 30 miles northwest of Waco. The lake is rated good to excellent for fishing of striped, smallmouth, largemouth and white bass, channel, blue and flathead catfish and crappie. There are nine campgrounds on the lake.
Lake Granbury has four camping locations and and is rated average to good fishing for sunfish, striped, smallmouth, largemouth and white bass, channel, blue and flathead catfish and crappie.
Possum Kingdom is located west of Fort Worth and features seven public campgrounds. All boats on this lake are charged a $5 per day fee as of July 2010. Largemouth bass, white crappie, channel and blue catfish are popular targets for fishermen on the lake.
River Stops
Access to the river is for the most part restricted due to private ownership of land surrounding the river. However, access to the river can be made at various points along the entire length. There are also numerous commercial campgrounds located along the length of the river.
References
Writer Bio
Daniel Walker is a Texas editor, writer and rancher. Beginning in 1992, he worked as a daily newspaper reporter and editor. He's received awards from the Texas, Oklahoma and Kansas Press, APME and Oklahoma Heritage Foundation. He was editor of "Coffeyville Journal," "Herald-Banner" and "Nowata Star." Walker has a bachelor's degree with graduate work in communications at Northeastern State University.