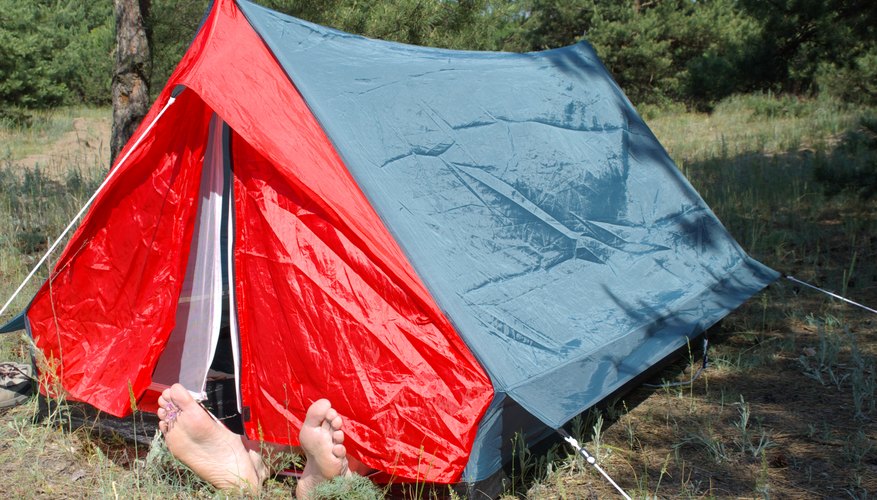 Few things in life are optional. Stop signs are not optional; work is not optional; clothing is not optional--unless you happen to be camping in Georgia. The peach state has several serene locations to practice social nudism, a philosophy to which thousands of Americans subscribe. Many say that camping without clothing, combining nature and nudity, lowers stress and accelerates relaxation.
History
Carolyn Hawkins wrote that nude recreation began with the first Olympic games in ancient Greece and was practiced in America by Benjamin Franklin, who took walks while naked through town and by President John Quincy Adams, who bathed and swam nude in the Potomac River. Hawkins is a member of the American Association for Nude Recreation, which was the first nudist organization in the U.S. The AANR connects members and visitors through its website to a network of resorts, campgrounds and beaches that specialize in naked vacations, or "nakations."
Nudist vs. Clothing-Optional
When deciding where to stay, it is important to note the difference between "nudist" and "clothing-optional." Because many people see nudity as a way of life, there are some places where disrobing is required. In Georgia these "nudist" or "naturist " communities include Bell Acres Resort in Maysville and Native Woods Naturists Park in Darien. Be sure to know the type of facility you are planning to visit before booking a trip. No representative from a community should ever ask you to go nude without a briefing of the rules and a tour of the grounds and facilities. Clothing is always acceptable in cold weather.
RV Park
What originated as "an informal group of skinny dippers in the early 1970s" is now Paradise Valley Resort in Dawsonville. It has a permanent RV park and vacation homes as well as overnight camping sights, hotels and condominiums. There is no pressure to go with or without clothes, as there is about an equal mixture. Throughout the year there are bonfire parties, pig roasts and Jamaican-themed weekends. Within a short distance of the resort, you can go golfing, ride horseback and mine for gold. You can also spend the day at the nearby Amicalola Falls State Park or the Outlet Mall off of Georgia State Route 400.
Mountain Views
Serendipity Park in Cleveland is a year-round community as well as a vacation destination. You can rent an RV campsite for a day, a month or a year at a time. There are also designated tent areas and cabins with full bedrooms, bathrooms and mini-kitchens. Residents and visitors share the park's large in-ground pool, which is the hub for socializing. Throughout the park are views of the Georgia mountains and hiking trails past Blue Creek. You can have quiet nights by yourself, or mingle at social events such as dances, poker games and potluck dinners. Serendipity is a three-time winner of the "Friendliest Nudist Resort in the Nation" award from the American Association of Nudist Recreation.
River Experience
Hidden River Resort is a naturist facility, which means that nudity is generally required, but if it's your first time visiting, keeping your clothing on is your option. The 88-acre campground is deep in the southeast between Florida and Georgia, along the St. Mary's River. While it lacks some of the amenities of other resorts, it has hiking and biking trails and beaches with white sand. When the river level rises in warmer months, visitors can canoe and kayak. Hidden River's experience is intimate compared to other clothing-optional campgrounds, which encourage socialization. The resort recently hired its own ordained minister to perform vow renewal ceremonies for married couples.
References
Resources
Writer Bio
Samantha Laros is a reporter for the "Daily Globe" newspaper in Shelby, Ohio, where she covers education, breaking news and features. Laros earned a bachelor's degree in journalism from Kent State University.