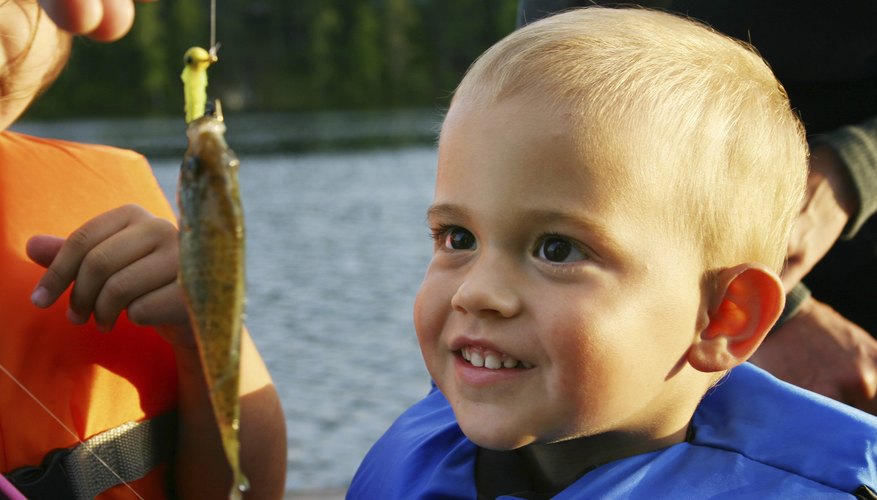 To call the AEP lakes of Southeastern Ohio a fisherman's paradise might seem an overstatement, but a visit to these rich waters leaves little doubt. On a vast 60,000-acre landscape once strip-mined for coal, American Electric Power (AEP) has planted more than 63 million trees and stocked 350 lakes and ponds with largemouth bass, bluegill, redear sunfish and channel catfish. Known today as ReCreation Land, this extensive network of waterways provides some of the most consistently productive fishing in the state.
Know Before You Go
While the AEP ReCreation Land harbors hundreds of lakes and ponds with abundant fish populations, this does not necessarily mean that the fishing is easy. With so many options to choose from, it can be hard to know where to start. The fact that the lakes and ponds are unnamed and that most of them are not accessible from the road only serves to complicate matters further. Before you head out on your fishing trip, check the free map available on the AEP website. This map includes the location of ponds, hiking trails and campsites throughout ReCreation Land. Ponds are numbered on the map, making it a bit easier to plan a fishing expedition to a specific spot.
Best Bets
If you're fishing ReCreation Land for the first time, ponds 91 and 92 are good places to start. These two connected ponds are located near the Miners Memorial Park campground and are home to some of the largest and most plentiful largemouth bass in the area. A 2010 survey report by the Ohio Division of Wildlife found 44 percent of largemouth bass in this pond to be 12 inches or longer with some up to 22 inches. These two ponds, along with pond 44, are also among the best spots in ReCreation Land for bluegill and sunfish, with lots of fish measuring 6 inches or greater. Keep in mind that, as fish populations grow and change, different ponds can become more or less productive from one year to the next. Oftentimes, the key to finding fish in the AEP lakes and ponds is a willingness to explore and find new spots.
Fishing Tips and Tactics
Some lakes and ponds within AEP ReCreation Land are easier to reach than others. A few have easily-accessible shore fishing spots on or near the various roads that wind through the area. But to find the best fishing, it helps to get off the beaten path. A small kayak or float tube is a great way to explore the water, allowing you to get out into open water and cast your bait to deep drop-offs, submerged rock piles and weed beds that shore fishermen can't reach. A wide variety of baits and lures can be successful, so be willing to experiment until you find something that works. Spinnerbaits, soft plastic lures and topwater baits are all good choices for bass, and small jig or nightcrawler under a bobber is often all you need for bluegill.
Special Considerations
In addition to a current Ohio fishing license, which is a requirement for all fishing waters across the state, you must also obtain a permit to fish within AEP ReCreation Land. The permit is available free of charge, and you can obtain one through the AEP website, at the AEP office in McConnelsville, Ohio, and at most bait shops and sporting goods stores near ReCreation Land. A few special fishing regulations are in place in AEP waters, including a 14- to 20-inch slot limit for largemouth bass. This means that you may keep two bass under 14 inches and one bass over 20 inches, for a total daily limit of three fish. A 20-fish daily limit is in place for bluegill and sunfish, with no size restrictions.
References
Writer Bio
When Richard Corrigan isn't writing about the outdoors, he's probably outside experiencing them firsthand. Since starting out as a writer in 2009, he has written for USA Today, the National Parks Foundation and LIVESTRONG.com, among many others, and enjoys combining his love of writing with his passion for hiking, biking, camping and fishing.