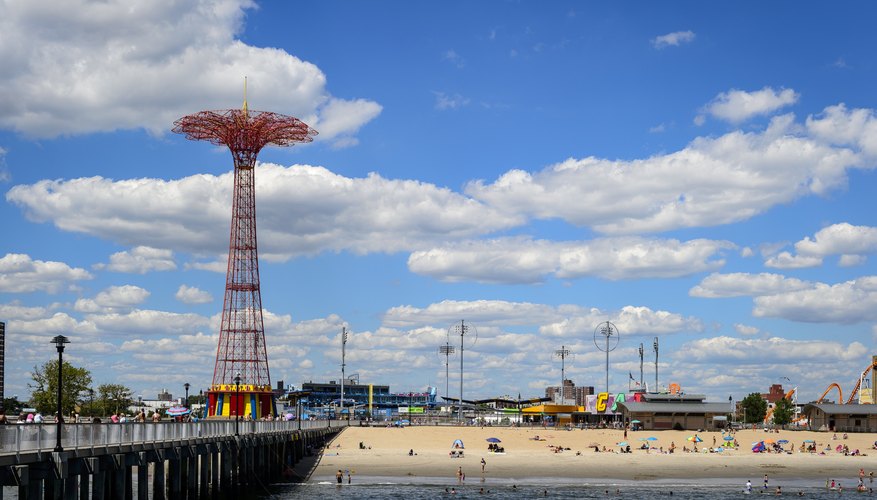 Newark, New Jersey, isn't all about smog, smokestacks and shipping crates. While the Brick City -- named so for its preponderance of brick homes -- doesn't exactly leap to mind when thinking of sun and surf (the polluted Passaic River and Newark Bay are not good for sunbathing and swimming), a number of New York public beaches are better suited for recreation are within a 30-mile radius.
Staten Island Beaches
On light traffic days, it takes less than 40 minutes to shoot down the 17 miles to the Staten Island coastline where the closest beaches to Newark lie along the Lower New York, Raritan and Prince's Bays. Cedar Grove Beach ranks as one of Staten Island's best kept secrets. The small patch of sand is a guarded, family-oriented beach with views of the Manhattan Bridge, while Wolfe's Pond has a narrow stretch of sand lined with shady oaks. Active families hang out at South Beach for its scenic bike trail, boardwalk, Ocean View Fishing Pier and a great view of the Verrazano Bridge. As an added bonus, Staten Island beaches have free parking lots.
Coney Island
Brooklyn's legendary Coney Island is less than 25 miles from Newark, boasting almost three miles of wide ocean beach. The step-right-up boardwalk and free beach are open all year, but swimming is permitted only when lifeguards are on duty -- Memorial Day to Labor Day from 10 a.m. to 6 p.m. Family-friendly rules do not permit smoking or alcohol on the beach, which can get packed with blankets and umbrellas on sizzling summer afternoons. After a day on the sand, grab a hot dog and waffle fries at Nathan's Famous, and stay until dark on summer Fridays to watch the fireworks display over the beach. It's tough to find a parking space during the peak season, but the subway can eliminate the hassle.
Brighton Beach
Brighton Beach may be next door to Coney Island, but while Coney is known for its carnival atmosphere, Brighton Beach is less kitschy and touristy. Once Memorial Day hits, locals fill the beach with skimpy swim trunks and flip-flop-wearing kids. Trek along the sand to the eastern end of the boardwalk to follow dog-walkers as they stroll the boardwalk to one of a cluster of oceanfront eateries between Brighton 4th and Brighton 7th Streets. Manhattan Beach is also close by, boasting a short promenade, two playgrounds, barbecuing areas and smaller crowds than its sister beaches. Keep in mind that the no smoking and no alcohol rules apply, and swimming is prohibited unless lifeguards take the stands.
The Bronx Riviera
About 30 miles from Newark, Orchard Beach -- the only public beach in the Bronx -- is better known as the "The Riviera of New York." Tucked away in Pelham Bay Park, the 115-acre beach stretches 1.1 miles along the Long Island Sound. Lifeguards patrol swimmers during the peak season, but much more than swimming is offered at this white-sand beach. Round up some friends for a game of volleyball or handball, have a barbeque at one of two picnic areas or treat yourself to some tasty beach food from the roving push-carts. Parking is available for a moderate fee.
References
Writer Bio
Susan DeFeo has been a professional writer since 1997. She served as a community events columnist for New Jersey's "Cape May County Herald" for more than a decade and currently covers the family and pet beat for CBS Philadelphia. Her health, fitness, beauty and travel articles have appeared in various online publications. DeFeo studied visual communications at SUNY Farmingdale.