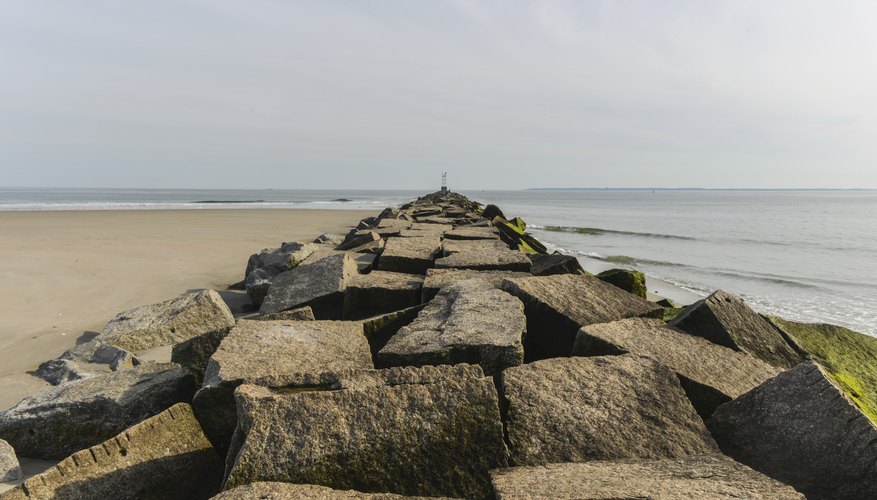 John F. Kennedy International Airport is east of Manhattan, in Jamaica, Queens. The airport is less than 20 miles from major tourist attractions, but getting to these spots requires a long cab or train ride. If you have a short layover, you likely won't have enough time to get all the way into the city. Instead, consider a few off-the-beaten-path attractions closer to JFK.
Explore the Rockaways
Long Island's massive peninsula contains a small finger of land called the Rockaways -- a beach escape for some New York residents in the summer. These long, peaceful stretches of sand face the Atlantic Ocean. If you're here in warmer months, you can join the crowds of people swimming and lying on the sand. In cooler months, you'll have the place to yourself for beachcombing and stretching your legs before a long flight. Get here via the A train toward Howard Beach from JFK, and get off at the Beach 90 stop. From here, you can walk three blocks south to the public beach and boardwalk area.
Bird Watch in Jamaica Bay
JFK Airport perches on the northeastern edge of Jamaica Bay, part of Long Island. Part of the bay is protected by the Jamaica Bay Wildlife Refuge, which covers over 9,000 acres of salt marsh, grasslands, fresh and brackish ponds, and open water. Here, you can spot birds from some 330 species -- like osprey and bald eagles -- known to frequent the area. You won't be able to take public transportation here, so hail a cab or car service outside the terminal and travel the three miles to the refuge's Visitor Center. Here, you can hike trails alone or participate in a ranger-led program.
Visit the Queens Botanical Garden
About eight miles north of JFK is the Queens Botanical Gardens, part of an exhibit for the 1939 World's Fair. The gardens contain 39 acres of roses, herbs, perennials, seasonal gardens and bee habitat. Several walking paths wind through the area, making for a relaxing way to take in natural surroundings before or after time in the concrete jungle. Travel here by cab or via the Q44 or Q20 buses, both of which connect to the JFK AirTrain.
Play at Corona Park
The botanical garden is part of the larger Flushing Meadows Corona Park. This largest park in Queens can keep you busy in several ways: Baseball, soccer, tennis and cricket areas, a zoo, an art museum and a science museum all sit within the park's boundaries. At the Flushing Bay Promenade on the park's northern end, you can stroll and spot sailboats and barges cruising the East River. As with the botanical garden, you can get here via the Q44 or Q20 buses from JFK's AirTrain.
References
Writer Bio
Megan Hill is a Seattle-based writer with more than 10 years of experience. She has served as a writer and editor for websites and nonprofit organizations, as well as a reporter for magazines such as "Seattle Met," "Seattle Magazine" and "Edible Seattle."