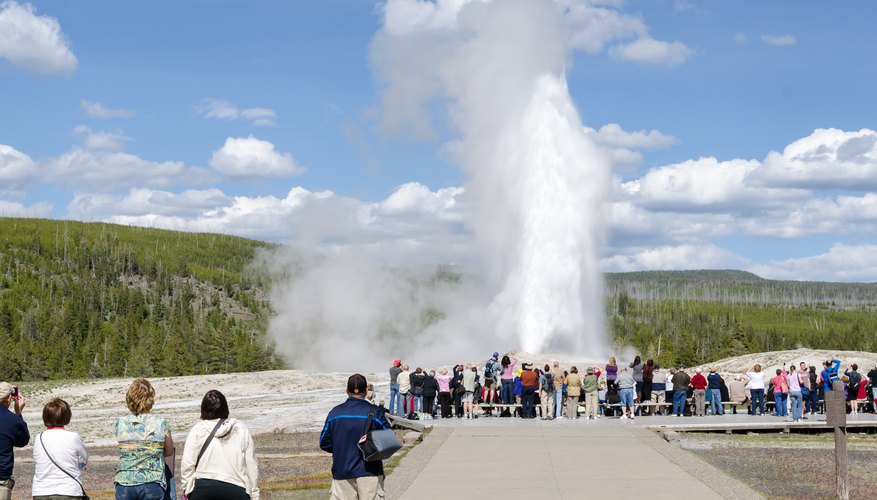 Fun with Old Faithful
With its famous geysers, multicolored mud pits and fabulous wildlife, Yellowstone will captivate and astonish the entire family. It was the first national park and remains one of the wildest. Within its boundaries are over 60 percent of the world's geysers that erupt dramatically to the delight of your kids and the 4 million other tourists who visit annually.
Summer is the most popular season to visit, and the park is very crowded. Prices are also highest at that time. Spring offers bison calves and bear cubs, while both spring and fall offer decent weather, lower prices and less people. In winter, you'll have lots of elbow room but also lots of snow.
A trip to Yellowstone makes powerful and lasting family memories. But you'll need to do pre-trip planning in order to fit in fun as well as all the most important sites. Here are some tips to get you started.
Old Faithful
Yes, it's famous and attracts more tourists than any other feature in this enormous park, but for good reason. Every 45 minutes, the geyser erupts into a steaming tower of water, resembling something out of heaven or hell. Don't let your kids miss this glorious natural feature. Stop by the Visitor Center to check the chart that gives you the eruption schedule for the day. After the show, stop by the Old Faithful Inn, the original hotel and a beautiful one, for lunch or drinks.
Grand Prismatic Spring
Just a few miles from Old Faithful, you'll find another remarkable nature feature called the Grand Prismatic Spring. A large, deep hot springs, some call it an even more impressive geothermic feature of the park than Old Faithful. In fact, at 370 feet wide and 121 feet deep, it is the park's largest and deepest hot spring. The children will go nuts for the colors, and likely ask you if someone painted them. Walk around the magical mist of the gorgeous pool and its rainbow rings of algae. Hold tight to little hands along the boardwalk since the "ground" is no more than a fragile crust that could crack under a toddler's weight.
Canyon Visitor Education Center
Sneak in a little education by taking the kids to the Visitor Center at Yellowstone (Yellowstone National Park, WY 82190). Nothing boring about this center. Youngsters will love the huge model of the park which takes up an entire room and walks you through the geological forces that created Yellowstone over the ages. You'll also find exhibits identifying plants and animals you may encounter.
Artist's Point
While you are at the Visitor Center, point out to the family Thomas Moran's famous landscape of the falls. Then take the kids to Artist's Point, one of the great viewpoints in the park, hand out sketch pads and let them try their hands at it. The views there are truly stellar.
Wildlife
And don't forget to take the time to drive around Yellowstone to "hunt" for its wonderful wildlife. Grizzlies, bison, wolves, elk and moose are just a few of the legendary animals that roam here.
References
Writer Bio
From Alaska to California, from France's Basque Country to Mexico's Pacific Coast, Teo Spengler has dug the soil, planted seeds and helped trees, flowers and veggies thrive. World traveler, professional writer and consummate gardener, Spengler earned a BA from U.C. Santa Cruz, a law degree from Berkeley's Boalt Hall, and an MA and MFA from San Francisco State. She currently divides her life between San Francisco and southwestern France.