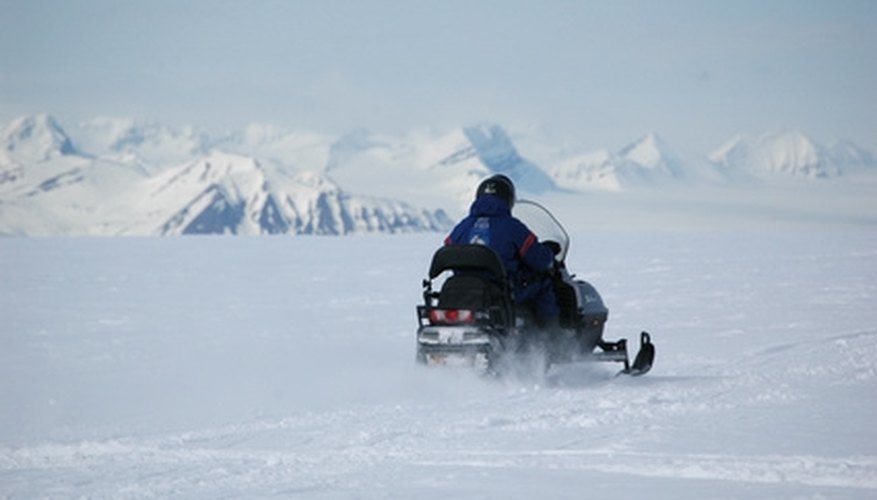 The RX-1 is a 998cc, four-stroke, four-cylinder snowmobile manufactured by Yamaha. Introduced in 2003, it is the first snowmobile with a four-stroke high-performance engine of more than 145 horsepower. Its design is derived directly from the 20-valve, 998cc, R1 racing motorcycles, and it provides riders with the same type of overall speed and control on a relatively lightweight chassis.
Engine Performance
The RX-1 includes a 998cc, four-stroke motorcycle-based engine that provides more than 145 horsepower. It offers many performance aspects that are exclusive to the vehicle, including: a compact in-line four-cylinder design, a 30-degree tipped-back engine with forward-facing intake, under-the-seat exhaust to help center the engine's mass, a patented five-valve head design to allow airflow for high-RPM power and fuel efficiency, four head-pipes that collect through an X-style system into two rear exhaust pipes for maximum power, gear-driven output shaft that allows high-RPM with a more efficient drive-clutch speed, four 37mm constant-velocity carburetors for easy throttle and fuel economy, and lightweight flywheel-magnet material for 425 watts of electrical power. Other standard specifications feature a low-maintenance battery, an electric-starter motor that delivers 1.5-times more cranking power compared to two-stroke starters, and lightweight pistons that operate at an 11.8-to-1-compression ratio with 87-octane fuel.
Design and Handling
The RX-1, designed with an exclusive Deltabox chassis, provides thin-wall construction with four times more rigidity and an overall weight reduction of nine pounds compared to other racing-influenced models. The increased strength is also carried over the engine to the steering gate with its lightweight aluminum extrusion. The steering linkage, routed to the side of the engine, allows the engine's center of gravity to be 0.8 inches lower and 2.0 inches further back, providing optimum balance. The mounting system isolates engine vibration and incorporates the heat exchangers under the extra-wide footrests to increase tunnel strength. The double-wishbone front suspension with 40mm shock absorbers moves nine inches vertically and creates zero-bump absorption for the driver with its spindle angle of 23 degrees. The special addition of lightweight-plastic skis with dual-angle keels also provides accurate steering with little effort.
Driver Comfort
Along with its high-performance aspects, the RX-1 is also designed with standard and exclusive features that provide overall comfort for the driver. Five exclusive design aspects include: a Quick-Adjust rear suspension that allows the rider to easily adjust to shock damping and spring rates, an LCD-digital gauge (with back-lighting and hand and thumb warmer settings), a 425-watt electrical system that powers the brightest dual headlights in the industry, dual exhausts that eliminate the two-stroke exhaust smell, an easy-pull throttle and a dual-piston hydraulic braking system. Other standard features range from a lightweight electric starter and R1-type dual taillights to overall lower noise levels and the elimination of two-stroke oil.
References
Writer Bio
James Nalley is a full-time travel journalist whose work has been published in more than 100 magazines, journals and websites. He is also the Topic Editor and Feature Writer for the Latin America and Caribbean Travel section of a prominent website in Canada. Nalley holds a Doctor of Philosophy in music and literature from the University of Rochester.