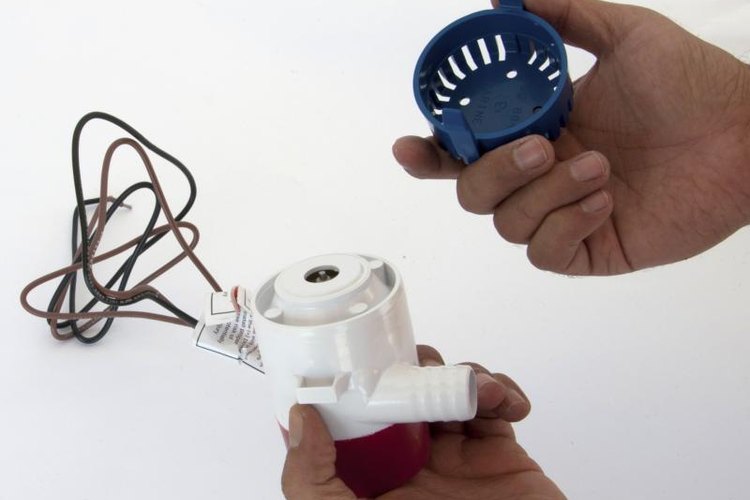 When unwanted water boards your boat, it collects in the boat's bilge. The bilge, the lowest part of your boat, collects this water and, unless you remove it, its movement will make your boat unstable. A properly wired bilge pump lets you do so in an orderly manner, either on command or automatically.
Bilge Pump Basics
The bilge pump is usually located at the rear of the bilge. The float, an air-filled ball at the end of a rod attached to the float switch, is located a few inches forward of the pump. As the water in the bilge rises, the float rises and triggers the automatic pump switch. You can also turn a properly wired bilge pump on an off from the boat's control panel.
From Battery to Switch
The bilge pump wiring and connections within the bilge are waterproof. The pump's power supply wire has an inline fuse located between the positive post of the boat's battery, and the input post of the pump's three-way switch, to prevent hazardous electrical conditions in the bilge. The three-way pump switch, located on or near the boat's control panel has positions for on, off and automatic.
From Switch to Pump to Battery
One power-output post of the three way switch's "on" position is wired to pump, with a branch wire to the float switch. The other output post is wired directly to the float switch. Finally, the pump is wired to the negative post of the boat's battery.
Bilge Pumping Caveats
In some coastal states, such as Massachusetts, the U.S. Environmental Protection Agency prohibits any type of discharge from boats, including bilge water, because of environmental concerns. Additionally, there are specific harbors, bays, rivers and lakes across American where you can't pump your bilges. A full list of these waters is available at water.epa.gov/polwaste/vwd/vsdnozone.cfm.
Photo Credits
SanerG/iStock/Getty Images