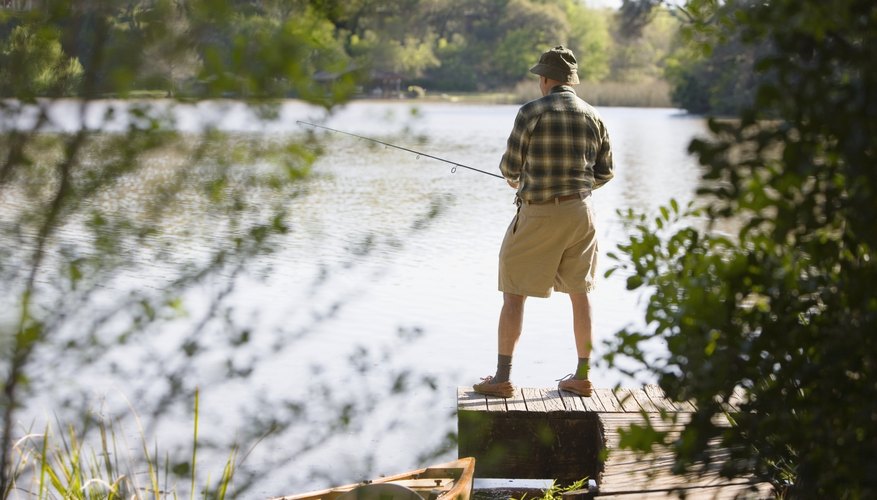 Traditionally made from bamboo, the fishing rod is arguably the most important piece of fishing gear. Today's fishing rods, however, are made from lightweight, durable materials such as fiberglass or carbon fiber -- commonly called graphite. Choosing the correct rod can enhance your fishing success. Each rod material has advantages and drawbacks, making different rods ideal in different fishing conditions including your angling experience and fishing techniques.
Techniques
Your angling techniques determine if fiberglass or carbon fiber rods are better. For example, Mark Lassagne from Bass West Magazine recommends using a fiberglass rod with a light to medium action tip when casting top water lures such as buzzbaits, spinnerbaits or crankbaits. The fiberglass rod combines sensitivity with a lightweight rod for easy casting. Lassagne recommends switching to a carbon fiber rod when fishing in deep water or heavy cover where you need sensitivity and weight. A 6-1/2 to 7-1/2 carbon fiber rod provides a stiff backbone with the weight you need to fish the heavy cover.
Sensitivity
Fishing for small game fish such as crappies or bluegills requires enhanced sensitivity to feel the soft bites. Carbon fiber is the preferred rod when you require sensitivity because it has a lightweight, flexible design that transfers the vibrations through the rod from a fish biting the hook. For example, some carbon fiber rods are 40 percent lighter than other graphite or fiberglass rods, increasing sensitivity.
Durability
The carbon fiber material is lightweight, but it also sacrifices durability versus fiberglass rods. If you are fishing for larger fish such as muskie, walleye or pike where you need a heavy, durable rod for retrieving the fighting fish, fiberglass rods are preferred over the stiff and brittle carbon fiber. However, most professional anglers and rod manufacturers routinely use carbon fiber rods for nearly every fishing situation.
Features
The rod components and features are equally as important as the rod material. For example, the rod guides need to be made from high-quality materials such as ceramic that provide a low-profile, lightweight design for increased sensitivity and casting distance. Other important features to consider are the quality of the reel seat and the materials used for the rod handle.
References
Writer Bio
Based in Nebraska, Jeremy Hoefs began writing fitness, nutrition, outdoor and hunting articles in 2006. His articles have been published in "Star City Sports," "Hunting Fitness Magazine" and RutWear field journals, as well as on the Western Whitetail website. Hoefs graduated with a Bachelor of Science in exercise science from Nebraska Wesleyan University.