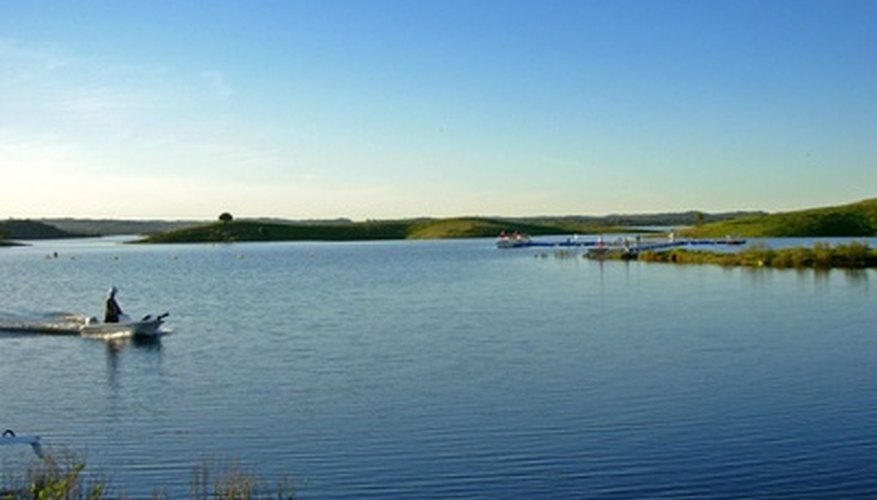 The varieties of fish you can catch are almost as diverse as the kinds of bait you can use to catch them. Bait comes in different sizes, shapes and styles, making it challenging to choose the "best" bait to catch the most fish. You should match your bait to where you are fishing and what you want to catch, but the best baits are versatile and productive in various fishing conditions.
Types
Specific types of bait work best in certain circumstances. For example, the Iowa Department of Natural Resources recommends combining live bait such as a nightcrawler or minnow with an artificial jig when you are fishing for bluegills. Bass Resource, however, recommends a variety of artificial baits--including spinnerbaits, topwater baits and lipless crankbaits--for bass fishing. For catfish, Catfish Ed recommends a mixture of crawdads, shrimp, worms, minnows and stinkbait.
Locations
Consider the depth and general location of the fish when you are choosing bait. The bait that catches the most fish will be the bait that resembles food the fish are eating. Casting dry flies and small poppers with a fly rod, for example, can be effective for bass and bluegills by presenting the bait to resemble an insect landing on top of the water.
Size
To catch the most fish, you must match the size of the bait to the fish. You won't catch a bluegill on a muskie lure. According to Ray Harper from "Game and Fish" magazine, you should use the smallest bait practical for the fish you are trying to catch. Larger fish can be spooked by large baits or heavier fishing line needed for big baits.
Conditions
Weather and the water conditions can make a difference in which bait catches the most fish. As weather patterns change throughout the day, the feeding patterns of the fish also might change. Adjust the bait size, type and color to match the conditions. White or light-colored baits are most effective for fishing in clear water or on bright sunny days. Dark or bright-colored baits are the most effective for fishing in murky or muddy water or on overcast days.
Time Frame
The kind of bait that catches the most fish also changes with the seasons. For example, bass bite best on jigging spoons, jig-and-pig baits or crankbaits during the winter, according to Bass Resource. The spring spawning season is the best time to catch most fish, because the fish congregate around the spawning beds and become very aggressive. During this time, the Iowa Department of Natural Resources recommends using a nightcrawler, jig or small lure with a bobber to catch bluegill.
References
Writer Bio
Based in Nebraska, Jeremy Hoefs began writing fitness, nutrition, outdoor and hunting articles in 2006. His articles have been published in "Star City Sports," "Hunting Fitness Magazine" and RutWear field journals, as well as on the Western Whitetail website. Hoefs graduated with a Bachelor of Science in exercise science from Nebraska Wesleyan University.