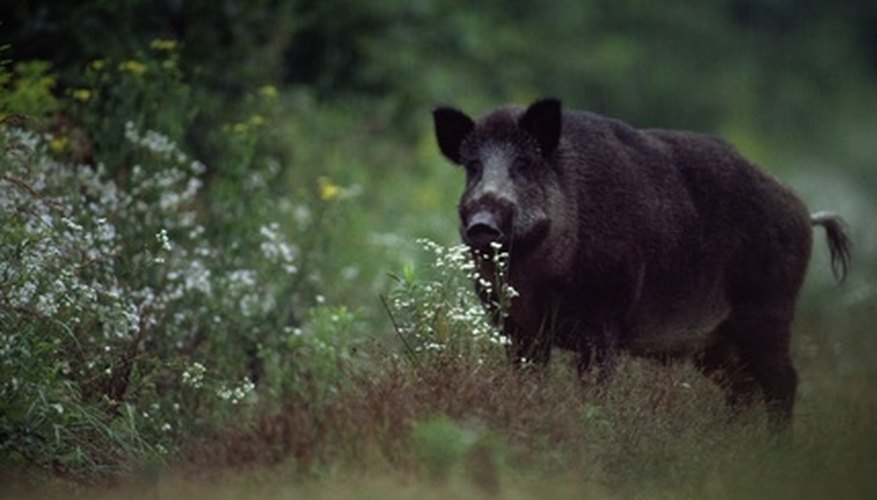 Of course the Upper Peninsula of Michigan is known for its hunting. For the most part, a sparsely populated land, deer, bear and numerous small game animals roam the woods and shores of the Upper Peninsula, providing hunters great game opportunities. But the ultimate in hunting game is the Russian boar, an animal of mythic proportions in hunting tales.
History of the Russian Boar in Michigan
Russian boars are not native to Michigan. They are considered an "invasive" species, originally imported by game preserves and ranches to provide hunting enjoyment for paying sportsmen. The problem started when some of these animals escaped the fences confining them. As Stephen Schmitt, a Department of Natural Resources spokesman and wildlife veterinarian states, "Hogs are very difficult to keep confined behind fences, unless those fences are quite significant."
The Problem
The problem is, as Schmitt notes, these wild Russian boars, once established in the wild, "are very difficult to get rid of." Problems associated with the swine include disruption of the environment, causing crop damage, destruction of property and even menacing of domestic animals and people. Disease is another concern, with the feral pigs capable of carrying at least 13 known diseases, including tuberculosis. The with the Michigan Department of Agriculture confirmed in May 2010 the presence of pseudorabies virus in free-roaming hogs and some on the hunting ranches in Michigan.
Russian Boar Population in Michigan
The wild boars in Michigan are likely a combination of wild Russians and domestic hogs that have escaped farms as well. Having adapted to the environment in Michigan, they have bred and prospered. According to Michigan State University swine breeding specialist Ron Bates, herds of these wild Russian boars can reach 40 to 60 animals or more; moreover, beyond the destruction of property and environment and disease concerns, the ferocity of the Russian boar is also of concern. "These are half-bloods, and they will revert back to their wild ways," as Bates states.
Hunting Specifications for Russian Boar in Michigan
Enter hunters. While one state representative tried to introduce legislation in 2001 to allow the shooting of the feral Russian boars, it was defeated through opposition by the DNR. Not until the end of 2006 were hunters with valid licenses urged to shoot any wild pig in select Michigan counties. As of 2007, hunters can not only hunt at one of the hunting preserves (where the price can easily be $750 or more) but can also shoot any feral pig in 50 counties, ranging from urban Oakland and Wayne counties to rural Baraga and Lake counties. In these counties, prosecutors agreed to not prosecute hunters, as Schmitt notes. As of 2010, "provided there's a hunting season of some kind open," and the shooter is licensed, it's open-season on the Russians. "Just shoot 'em," urges the Michigan United Conservation Clubs.
Hunting Tips
So with virtually little limits, hunters can visit hunter's preserves in the Upper Peninsula that allow you to hunt for a price--or search out your own feral Russian boar in the wilds of Michigan. In spite of disease concerns, as long as the meat is properly cooked (cooked to an internal temperature of 170 degrees Fahrenheit, according to the Centers for Disease Control and Prevention), there is little to no risk in eating the flesh.
Hunters enjoy hunting the swine in a variety of ways, from using dogs to deer stands and beyond. The most important thing to bear in mind is the ferocity and dangerousness of the feral swine. "These animals are highly aggressive, so they are a danger to both hunters and farmers," states Amy Spray, a resource specialist for MUCC. Additionally, they can prove hard to take down, as they are very tough and few spots are kill zones.
References
Writer Bio
Karie Fay earned a Bachelor of Science in psychology with a minor in law from the University of Arkansas at Monticello. After growing up in construction and with more than 30 years in the field, she believes a girl can swing a hammer with the best of them. She enjoys "green" or innovative solutions and unusual construction.