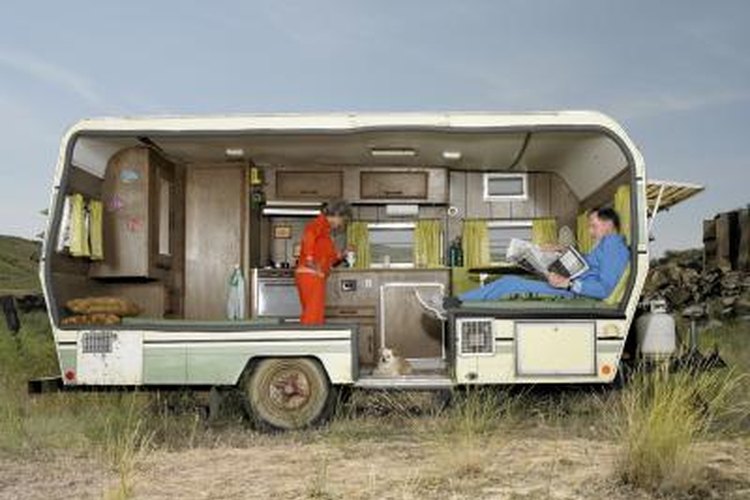 Truck camper tie-downs prevent your camper from sliding against your truck bed while you are traveling from destination to destination, or from disconnecting from your vehicle entirely and ending up on the highway. A number of different truck tie-downs are available.
Four Point System
One of the major camper tie-down brands is Torklift, which offers four different points from which you can tie your camper down. This system has no belly or crossbar so it can offer the tightest grip possible as it attaches to the camper from all sides. These tie-downs also fit on almost all trucks or campers, as they are universally adjustable. Many other companies offer this same type of tie-down system and are known to be as effective as Torklift and possibly cheaper. Check and compare prices when buying this tie-down system.
Push-Up Tie Downs
For pop-up campers, push-up tie-downs are usually the best way to go as simply pushing up or down on each locking apparatus secures or releases each tie-down. Each position locks firmly into position with a click and fits all full-size applications with stake bed pocket holes on them. Many of these push-up tie-downs use rubber systems which expand when locked into place, allowing maximum hold possible. Most of these kits also have a minimum tie-down strength of 1,000 lbs. each.
Belly Bar Tie Downs
On bigger campers and RVs, belly bar tie-downs are often used, as they offer more strength over a larger area and are more heavy duty then some of the sleeker tie-down systems used on smaller campers. Belly bar tie-downs attach to the undercarriage frame of the truck to safely secure the camper, using heavy wall tubing and string clamps to safely secure the belly bar to the truck. The receiver mount on this system attaches to your truck's receiver mount, as opposed to the back bumper.
Photo Credits
Andy Reynolds/Lifesize/Getty Images