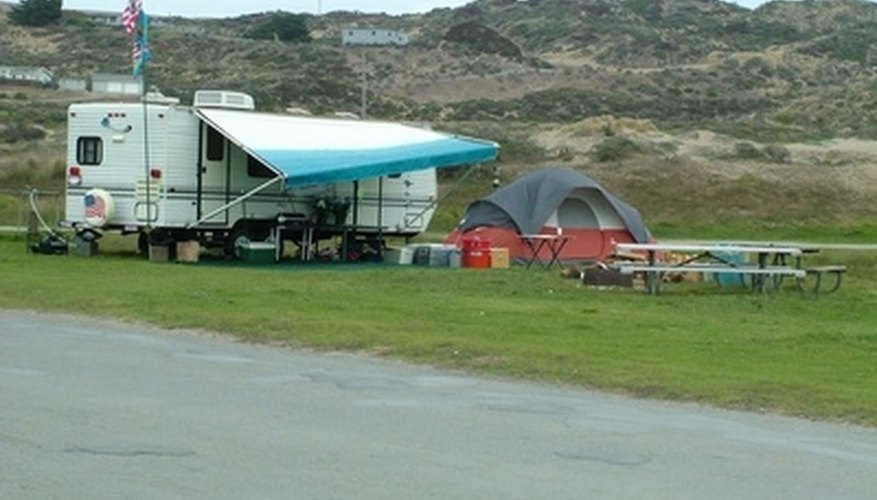 Having an RV awning can be invaluable while camping. It offers shelter from harsh sun rays, protection from light rains and creates an additional outdoor living space. Frustration builds when trying to open the awning in a sudden rain or close it to pack up camp, and it gets stuck. Awning sags and tears can also be very annoying. There are a few tricks to troubleshoot awning issues so you can return to a relaxing camping trip.
Release a sticky awning ratchet lever by releasing the awning lever with one hand while pulling down gently on the awning support arm with your other hand. Pull the support arm to release the ratchet attached to the other end of the lever. This technique works whether the awning is open or rolled up.
Test the battery power when a battery-operated retractable awning does not work. Charge or replace the batteries as needed.
Retract a battery-operated RV awning manually when batteries do not have enough power. Lower the tension arm latch and put the support arms and rafters into travel position. Roll the awning tightly and tie with attached straps. Secure the travel locks.
Find and replace broken rivets to tighten a sagging awning. Put the torsion assembly in the proper position.
Trim frayed and torn canvas on the awning. Apply adhesive tape to repair a tear in the awning.
References
Writer Bio
Kimberly Dyke is a Spanish interpreter with a B.A. in language and international trade from Clemson University. She began writing professionally in 2010, specializing in education, parenting and culture. Currently residing in South Carolina, Dyke has received certificates in photography and medical interpretation.