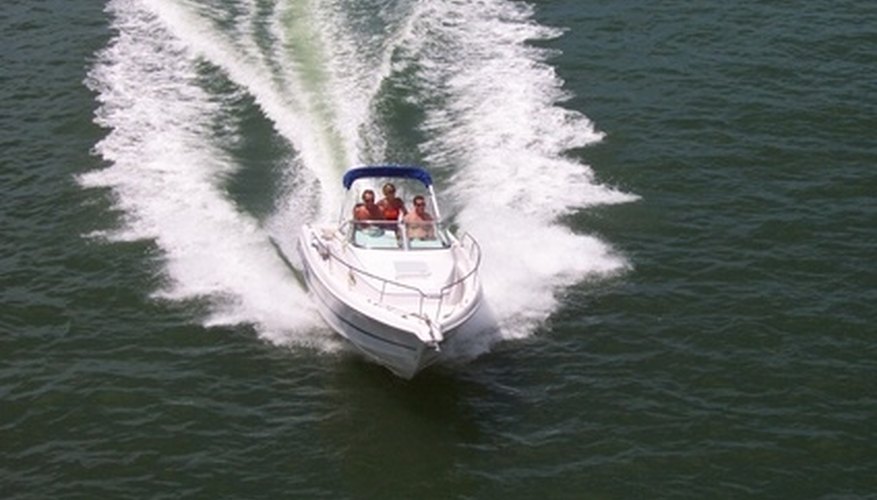 Yamaha boat motors need to be adjusted for trim. Trim adjusts the angle of the propeller shaft to the transom and water. It reduces steering torque and adjusts the boat's attitude to different seas, load conditions and speeds. Engine and boat efficiency are improved by proper trim. Tilt raises the outboard so that propeller and engine damage doesn't occur when beaching, mooring or launching the boat. Problems with a Yamaha boat motor's tilt and trim can be rectified by following some steps.
Troubleshooting Trim
Steer the boat. Slow down and make small incremental adjustments to the trim if steering the boat becomes difficult or the boat feels unstable. The adjustments should be small. Press the trim switch so that the bow moves up or down. The switch's up position raises the bow and the down position lowers it. The engine will move positions until the switch is released or the engine reaches its maximum position. You can do this at any speed.
Increase the speed again. Do this gradually and watch for control issues, such as steering or instability problems.
Keep adjusting the Yamaha's trim. Make test runs with different loads at different speeds. Monitor the tachometer because engine speed will increase -- with no change to throttle position -- as the boat trims. Incorrect trim, where the bow is too high, can be identified by hopping caused by propeller ventilating. Difficulty accelerating can be caused by the bow being too low because the boat is plowing the water.
Troubleshooting Tilt
Disconnect the fuel lines and switch the fuel off if any fuel spills or leaks when you tilt the engine.
Support the tilted motor with the tilt support knob if the outboard falls back suddenly. Pull the knob into the bracket.
Tilt the Yamaha engine partially if cruising in shallow water, but not so much that the water intakes or propeller become exposed. Overheating and damage can rapidly occur if you do this.
References
Writer Bio
Patrick Nelson has been a professional writer since 1992. He was editor and publisher of the music industry trade publication "Producer Report" and has written for a number of technology blogs. Nelson studied design at Hornsey Art School.