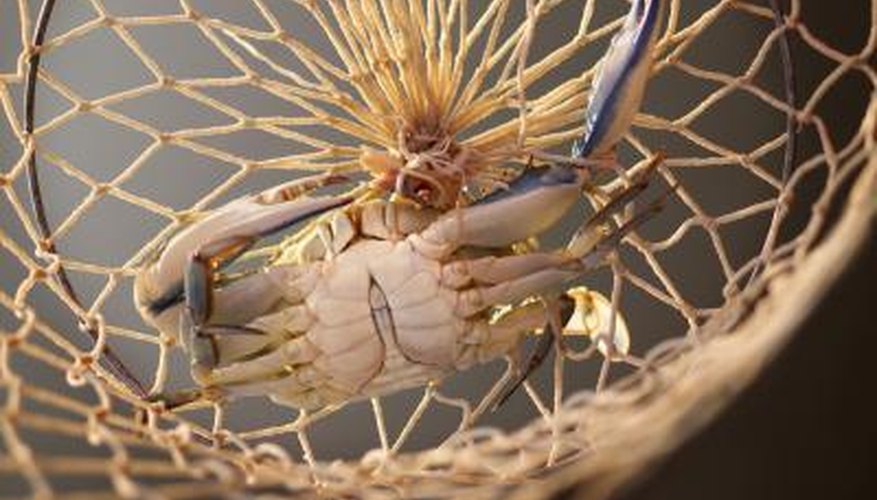 Enjoy a feast of crabs by catching them to creel limit. Crabbing gear includes crab ring nets, crab traps, bait, measuring gauge, gloves and catch container for holding crabs. Once you have all the necessary gear, certain techniques must be employed to harvest as many crabs as you can, including knowing when and where to catch them.
Tides
Watch the tidal flows and charts, and time your crabbing trips to the tides. According to Oregon State University, the best times for crabbing typically occur during or just before slack tide at either low or high tides. Visit your local sporting good stores and tackle shops to obtain tide tables. Some local newspapers publish tide tables with the weather forecast. When crabbing from the shore, set your crab traps when the tide is rising. The crabs follow the tides and come near shore at this time. During tidal flows or slack water, crabs tend to walk around and feed because they are not bothered and pushed around by the tidal exchange.
Seasons
Fall is generally the most productive season to catch crab. Starting in September, crabbers can often find crabs that are meatier compared with other times of the year. Look at the condition of the crab shell when determining the meat quality. Hard-shelled crabs have 20 to 30 percent meat by weight, while soft-shelled crabs have only about 12 percent.
Temperature and Weather
Although crabs can be caught throughout the year, certain temperature ranges have better catch rates, according to the Marine Resources Division. Crabs are inactive in cold weather when water temperature drops from 50 to 55 degrees F. In March and April, crabbers can catch more bushels of crabs when water temperatures rise to about 65 to 75 degrees F. The best time of year to harvest larger crabs is from October to December, especially from South Carolina shores. Catch crabs early in the morning or late in the afternoon when they are most active, especially in hot weather. Crabs are less abundant following heavy rainfalls in the bays.
Regulations
Adhere to your state's regulations, including seasonal restrictions, when harvesting crabs. Regulations for catching crabs may change yearly, so check with your local state department of natural resources for the most current regulations before crabbing. In Oregon, all crabbers must have a valid, state-issued shellfish license to take any crabs in the state. As of June 2011, crabbing from bays, beaches, estuaries, piers, tide pools and jetties is open all year. The ocean is closed, however, for catching Dungeness crab from October 16 to November 30.
References
Writer Bio
Rona Aquino began writing professionally in 2008. As an avid marathon runner and outdoor enthusiast, she writes on topics of running, fitness and outdoor recreation for various publications. Aquino holds a Bachelor of Arts in communications and English from the University of Maryland College Park.