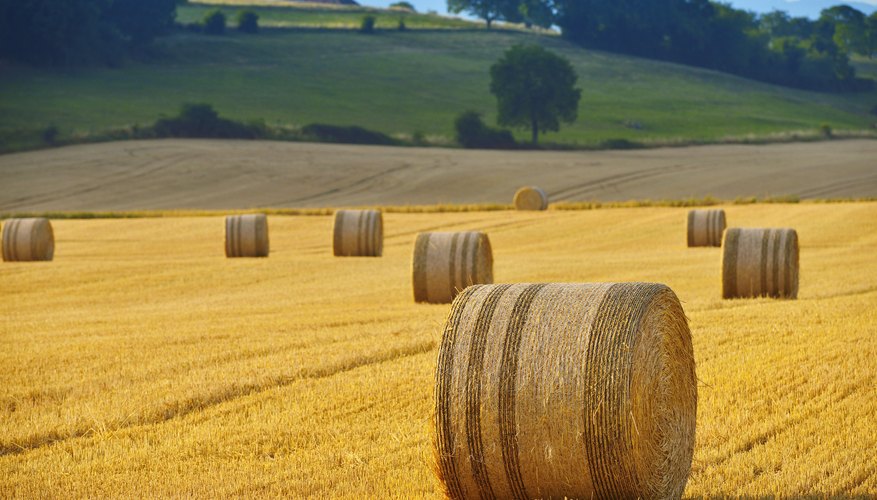 Farmers and ranchers use hay to feed cattle, horses, sheep and other livestock. Types of hay include grasses, legumes and cereal grain straw. When deciding what type of hay to use, it is most important to consider the nutritional needs of the animals. Other factors, however, such as farm size, equipment, weather and budget will determine how the hay will be collected and stored. The two most common options are large round bales, also called rolls, and small square bales.
Farm Size
Small square bales of hay are generally the better choice for smaller farms. The small bales are lightweight enough to be moved by hand (50-150 lbs.) and small enough to be transported in the back of a regular-sized pickup truck or flatbed. Square bales are sufficient for farms with few animals. The larger round bales are more often utilized in larger operations that require more feed more often.
Equipment
There are many different types of balers, each designed with features that specialize in creating specific bale shapes. Square balers are generally less common but are convenient for small farms. Some of these balers are equipped with attachments that aid in transporting bales, which can be convenient for operations with little manpower. Round balers require the least amount of manpower and are common on large cattle farms. Because round bales are entirely too heavy to move by hand (1,000-2,000 lbs.), all round balers include attachments that pick up and transport bales.
Weather
Hay that is exposed to rain or moisture will become moldy and dangerous to animals that consume it. Additionally, hay that is stored for too long may lose its nutritional value; therefore, bales should be stored for no longer than approximately one year. Small bales are beneficial for short-term storage, because they can be used quickly. Large round bales are beneficial during long-term storage because they are packed more densely and less at risk to spoil due to water exposure.
Budget
Round bales are more weather-resistant and therefore more economically advantageous if preservation is key. Because square bales are easier to handle and transport, however, they offer one additional advantage: profit. For those who bale hay to sell, square is the way to go. The convenient shape is easy to handle and stackable, resulting in efficient delivery to buyers, whether on the other side of town or on the other side of the country.
References
Writer Bio
Alison Datko is a professional editor with experience as a journalist, writer and blogger. She contributes to a variety of print and online publications, specializing in music, food, art, fashion and culture.