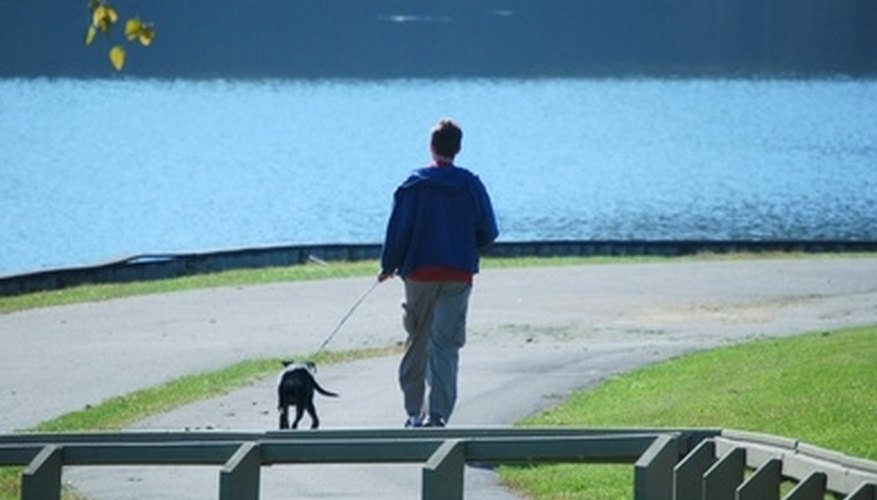 Dogs are allowed in Texas State Parks, provided that owners comply with the following guidelines. Dogs must be secured by a leash no longer than six feet and must never be left unattended. Dogs must have proof of rabies vaccinations. Dogs are not allowed inside any park buildings, with the exception of trained service dogs. Each park may have individual restrictions as well; so if you are planning on visiting a particular park, it's best to call ahead to ask about their specific rules on pets.
Inks Lake State Park
Inks Lake State Park is a 1,201-acre recreation area nine miles west of Burnet, Texas. This park is a good day-use area for dogs; but if you're planning an overnight stay, pets are welcome only in the non-primitive campsites. Leashed dogs are welcome on the seven and a half miles of trails. The lake has a refreshing swim area for your pet as well.
Inks Lake State Park 3630 Park Road 4 W. Burnet, Texas 78611 512-793-2223 tpwd.state.tx.us/spdest/findadest/parks/inks/#fac
Bastrop State Park
Approximately 30 miles southeast of Austin, Texas lies Bastrop State Park, a 6,000-acre recreation area. The park is home to Texas' famous "Lost Pines," an isolated woodland of loblolly pines separated by nearly 100 miles from the nearest pine grove to the east. There are over 12 miles of hiking trails, much of them strewn with pine needles, making a thick, lush carpet for your pet. Bastrop State Park has both primitive and non-primitive campsites for overnight stays with your pet, but the cabins and lodges are off-limits for pets.
Bastrop State Park 3005 Highway 21 E. Bastrop, Texas 78602 512-321-2101 tpwd.state.tx.us/spdest/findadest/parks/bastrop/
Palmetto State Park
Palmetto State Park is located just over 60 miles east of San Antonio, Texas. This 263-acre park is named after the palmetto, a dwarf tropical plant that grows in the park's swamplands. There are three short hiking trails near the day-use parking area that, when combined, make an easy, one-hour hike for you and your pet. There are over 40 campsite facilities at Palmetto State Park. All of them have water available, and the campsites are pet-friendly.
Palmetto State Park 78 Park Road 11 S. Gonzales, TX 78629 830-672-3266 tpwd.state.tx.us/spdest/findadest/parks/palmetto/
Galveston Island State Park
For pet owners who like to be near the coast, there's Galveston Island State Park, 55 miles southeast of Houston, Texas. Galveston Island State Park offers access to the sandy shore of the Gulf coast, which is perfect for dogs and dog owners who like to play in the ocean waves. For a drier experience, the park also has several bayou trails further inland for easy hiking with no elevation gain. There are 66 pet-friendly campsites available, all with water, and most have electricity available as well.
Galveston Island State Park 14901 F.M. 3005 Galveston, Texas 77554 409-737-1222 tpwd.state.tx.us/spdest/findadest/parks/galveston/
References
"Best Hikes With Dogs: Texas Hill Country and Gulf Coast;" Melissa Gaskill; 2006