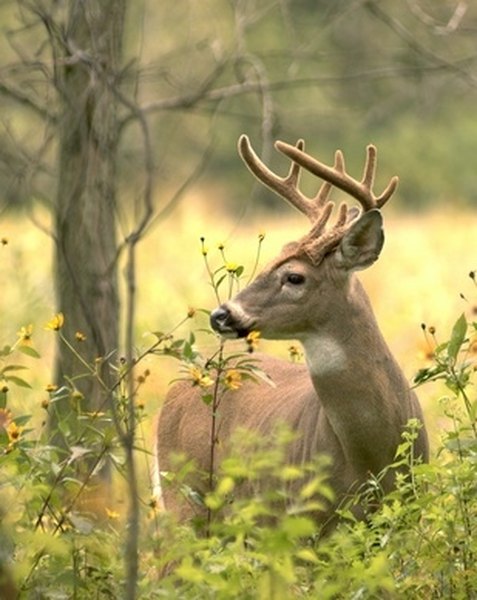 Tennessee hunters may hunt big game animals such as deer, turkey, bear, elk and wild boar throughout mandated areas in the state. There are restrictive limits on hunting deer in Tennessee to prevent the over-harvest of buck. Deer hunters must abide by state regulations to ensure the overall health of the herd.
Bag Limits
Tennessee regulates deer hunting limitations statewide. The state classifies game deer into three types: legal bucks, antler less deer and albino deer. According to the Tennessee Wildlife Resources Agency, legal bucks have antlers with a minimum of three inches in length. Anterless deer are those without antlers or deer with antlers that are less than three inches. Albino deer are those with a significant lack of pigment in the hair and skin and pink eyes. The statewide limit for legal bucks is three. No more than one may be taken per day. Anterless deer limitations vary in different areas of the state. Hunting albino deer is completely prohibited.
Deer Hunting Units
Tennessee hunting law dictates that the state is divided into three deer hunting units. Each unit, comprising of different counties, is designated a specific antlerless bag limit depending on the season type and the season dates. Season types include archery; muzzleloader and archery; gun, muzzleloader and archery; and young sportsman. Check your county's designated deer unit for specific season dates and antlerless bag limit.
License
Deer hunters must possess a state-issued hunting license. Exceptions apply to this law including, but not limited to: residents born before March 1, 1926, military personnel on leave and landowners who hunt on farmland they own. To obtain a hunting license, applicants must have a valid Tennessee driver's license, proof of residency and social security number. Specific rules apply to military personnel and students. Hunting licenses are available for purchase on February 18 each year and are valid through the last day of February the following year.
Gear Requirements
A deer hunter must wear 500 square inches of daylight fluorescent blaze orange on the upper portion of his body and head. This should be visible both in front and in back while deer hunting except on archery-only hunts.
Writer Bio
Rona Aquino began writing professionally in 2008. As an avid marathon runner and outdoor enthusiast, she writes on topics of running, fitness and outdoor recreation for various publications. Aquino holds a Bachelor of Arts in communications and English from the University of Maryland College Park.