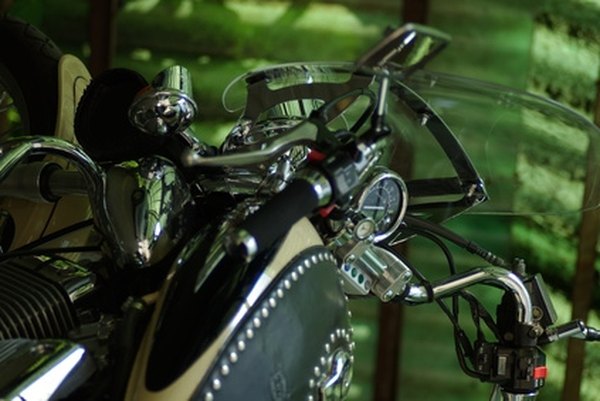 The Suzuki C50, also known as the Boulevard C50 line of motorcycles, has been manufactured since 2005. The Boulevard C50 line are classic cruising bikes powered by a 53-horsepower, four-stroke, liquid-cooled, V-Twin engine. Combined with a five-speed constant-mesh transmission, a low seating position and swept-back handlebars, the C50 is designed not only for comfort, but also for style and performance. As with any high-performance motorcycle, there will be issues that arise over time that will require a licensed mechanic. However, some quick troubleshooting can correct smaller problems or prevent them from occurring at all.
Check the C50's fuel level and refuel if necessary. The C50 has a 5.3-gallon fuel tank.
Inspect the battery installed in the C50 to determine if the connections are solid and clean. Replace the battery if it is not providing the proper voltage to start.
Wipe the spark plugs clean of any dirt or corrosion using a clean, dry cloth. Replace any spark plugs that show signs of having burned out, are broken, or are no longer providing sufficient spark for the electric starter.
Clear the fuel and air filters of any dirt or debris, as this can prevent a proper fuel flow through the engine.
Remove any dirt or debris from the radiator, while also inspecting the coolant level inside. Blockages or a low coolant level in the radiator can cause engine overheating.
Check the oil levels and refill if necessary, or replace the oil entirely if it appears dirty or has deteriorated over time. Low oil levels, or poor quality oil, can cause problems such as engine overheating and failure of the clutch.
Inspect the tires and inflate them to the recommended level of air pressure if necessary. Also check if the tires appear to be overly worn. Low tire pressure or worn out tires can lead to problems with steering and stability.
References
Writer Bio
Sean Meyer has worked since 1994 as a reporter, editor and photographer for several weekly newspapers in southwestern Ontario, including "The Londoner," the "Guelph Tribune" and the "Waterloo Chronicle." His experience includes hard news and feature stories, covering a variety of subjects including politics, sports, recreation and the arts. He earned a diploma in journalism from Conestoga College in Ontario.