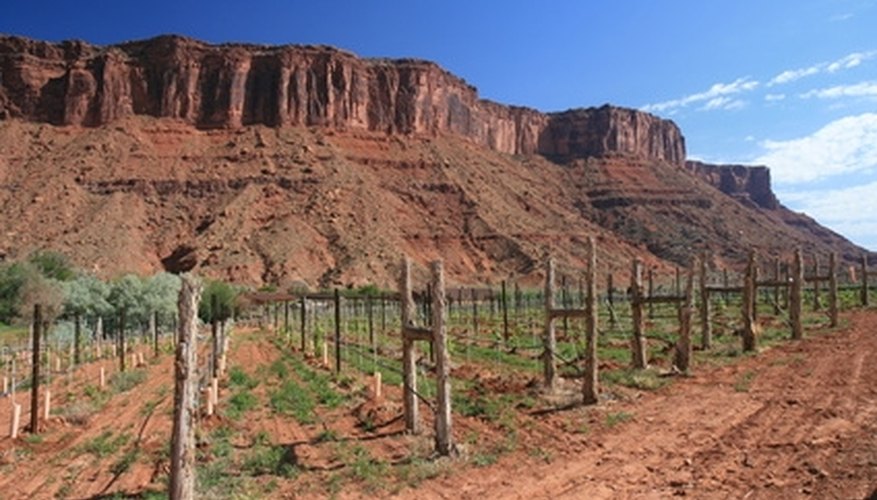 The area of the western United States known as the Four Corners is a well-known destination with RV enthusiasts due to its picturesque scenery. The Four Corners area, where the states of Utah, Colorado, New Mexico and Arizona meet, is home to a variety of RV parks that feature the typical traditional amenities such as water and electric hook-ups as well as more luxurious amenities such as swimming pools and spas.
Mesa Verde KOA
Cortez-Mesa Verde RV Resort, located in Cortez, Colorado, is less than 15 minutes from where the four corners meet. Cortez-Mesa Verde RV Resort is also less than a 10-minute drive to the Mesa Verde National Park, which features 700-year-old cliff dwellings as well as hiking trails. In addition to large, pull-through spots complete with full electric and water hook-ups, Cortez-Mesa Verde RV Resort offers amenities such as a heated swimming pool, on-site grocery store and gift shop as well as an on-site basketball court and golf course. The RV camper will also find authentic Native American tepees on the grounds. As of July, 2010, rental rates ranged from $26 to $31 per night, depending on location.
Cortez-Mesa Verde KOA
27432 E. Highway 160
Cortez, CO 81321
970-565-9301
koa.com
Ruins Road Park
Ruins Road RV Park is located in Aztec, New Mexico and within minutes of where the four corners of Utah, Colorado, New Mexico and Arizona meet. Ruins Road RV Park offers 43 pull-through as well as eight back-in spaces that come with full water and electrical hook-ups. The park also features a fishing lake and is within a 10- to 15-minute drive to local attractions such as the Navaho Lake State Park and sightseeing on the Durango and Silverton Narrow Gauge Railroad. As of July, 2010, rates were $20 per night or $120 per week.
Ruins Road RV Park & Campground
312 Ruins Road
Aztec, NM 87410
505-334-3160
ruinsroadrvpark.com
Spider Rock
Spider Rock Campground is located in Chinle, Arizona, just minutes from the Four Corners. Spider Rock offers over 30 pull-through parking sites complete with water, electric and dump stations. Spider Rock also features amenities such as solar-heated showering facilities, which were available as of July, 2010 for a charge of $2.50 per person and wooded walking trails. You will enjoy wireless access, mocha espressos and soft drinks, as well as an on-site snack bar. As of July, 2010, rental rates for Spider Rock's RV spaces were $15 per night.
Spider Rock Campground
P.O. Box 3797
Chinle, AZ 86503
928-674-8261
spiderrockcampground.com
References
Writer Bio
Rebekah Worsham began writing professionally in 2007 and has been published on eHow. She has expertise in the fields of law, parapsychology and the treatment of drug and alcohol addiction. She holds a degrees in law from Beckfield College.