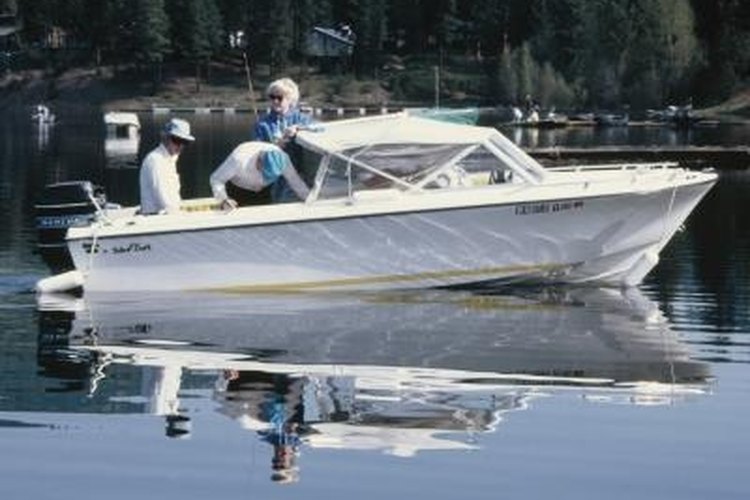 The 15-horsepower Johnson outboard motor uses a raw water cooling system. This means that the sea, lake or river water in which you're boating is drawn into the motor through an intake on the lower unit and pumped throughout the power head by the water pump located atop the lower unit. The maintenance schedule for this motor dictates that you change the pump yearly. By replacing the pump yearly, you ensure your boating pleasure won't be interrupted by an overheating motor.
Removing the Old Water Pump
Remove the six bolts that hold the lower unit to the exhaust housing using a 5/16-inch thin-wall socket. Slide the lower unit away from the motor just enough to fit a screwdriver through the gap between the lower unit and the exhaust housing. Remove the screw from the shift rod connector and slide the lower unit away from the motor.

Set the lower unit in a bench vise. Tighten the bench vise just enough to hold the unit upright while you replace the water pump.

Extract the four 1/4-inch bolts that hold the water pump housing to the top of the lower unit, using a 1/4-inch socket. Lift the water pump housing off the driveshaft and pull the impeller drive pin from the driveshaft with your fingers. Remove the O-ring, driveshaft seal, the insert, the impeller and the impeller plate off the driveshaft and discard them, along with the old water pump housing..
Installing the New Pump
Remove the new driveshaft seal from the water pump kit and spread a thin coat of gasket-sealing compound on its rim. Apply a thin coat of gasket-sealing compound on both sides of the new O-ring and the outer rim of the grommet. Slip the O-ring into the large hole on the top of the water pump housing and slip the grommet into the small hole.

Dab a bit of needle bearing grease on the impeller drive pin and insert the pin into the slot on the driveshaft. Apply a thin coat of gasket-sealing compound to the matching surfaces of the new impeller plate and the lower unit. Slide the impeller plate down the driveshaft and into place.

Slide the new impeller down the driveshaft, turning the driveshaft clockwise, if necessary, so that it aligns with the drive pin. Apply a thin coat of light machine oil to the inner surface of the new impeller insert

Coat the outside edge of the insert with gasket-sealing compound and place it inside the water pump housing. Slide the pump housing and the insert down the propeller shaft and over the impeller, seating it over the impeller plate.

Apply thread locker to the threads of the four mounting bolts for the water pump housing. Press the bolts through the water pump housing and thread them into the lower unit. Tighten them with a torque wrench to 60 to 84 inch-pounds of torque.
Items you will need
5/16-inch thin-wall socket
Screwdriver
Bench vise
1/4-inch socket
Johnson water pump kit
Gasket-sealing compound
Needle bearing grease
Light machine oil
Thread locker
Torque wrench
References
"Johnson Outboard Repair Manual - 2.5 to 250 HP Models, 2001-2009"; Seloc Marine; 2009
Photo Credits
Jupiterimages/Photos.com/Getty Images