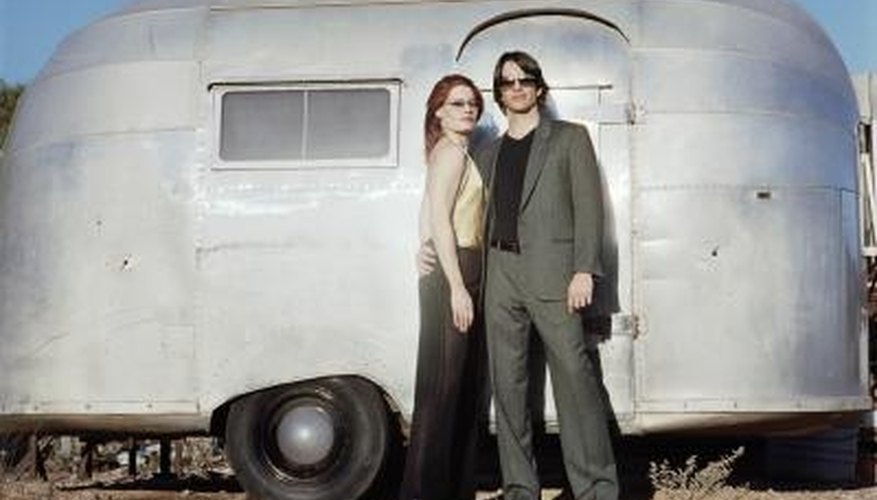 After years of use, the exterior of your aluminum camper will start to show the effects of its age and usage. Maintaining the exterior of your camper will not only assist in retaining a good resale value it will also show the pride of ownership you had when you first purchased it. One of the least expensive ways of maintaining the exterior of your camper is to give it a new coat of paint from time to time.
Items you will need
Painter's tape

Old newspapers

Paint roller, brush or sprayer
Prepare the exterior of the aluminum camper by removing any awnings, light fixtures and screen doors from your camper. If there are any decorative labels, stickers or decals on the camper you will want to remove these as well. Use linseed oil to remove an residual adhesive left over from the stickers.
Clean the trailer using a pressure washer. This device shoots a stream of water at the camper and will remove any grime and dirt from the camper. Do not direct the pressure washer hose into any vents or into any gaps in the siding. Allow the camper to dry thoroughly before moving to the next step.
Tape newspaper over windows, vents and any other part of the camper you do not want to be painted. Use Painter's tape and tape over door and window frames.
Apply a coat of aluminum oxide primer paint to the camper. This primer can be found at most hardware, boating or camping retailers. Apply the primer with either a roller, brush or sprayer if you have one. All the primer to dry for four to six hours, depending on the weather conditions where you are painting. In hotter temperatures it may take longer for the primer to dry.
Apply one or two coats of acrylic latex paint after the primer has dried. This paint can be found in most home improvement retailers and can be applied with roller, brush or sprayer. After the first coat has dried, inspect the camper to ensure the paint has dried evenly and there is a uniform appearance to the camper. You may decide to apply a second coat if you wish.
Remove the paper and tape from the windows, frames and air vents. Apply replacement stickers or decals to your camper and it is ready for a new season.
References
Writer Bio
Since 2002 Mark Spowart has been working as a freelance writer and photographer in London, Canada. He has publication credits for writing and/or photography in Canada, The United States, Europe and Norway, with such titles as "The Globe & Mail," "The National Post," Canada News Wire, Sun Media and "Business Edge" magazine.