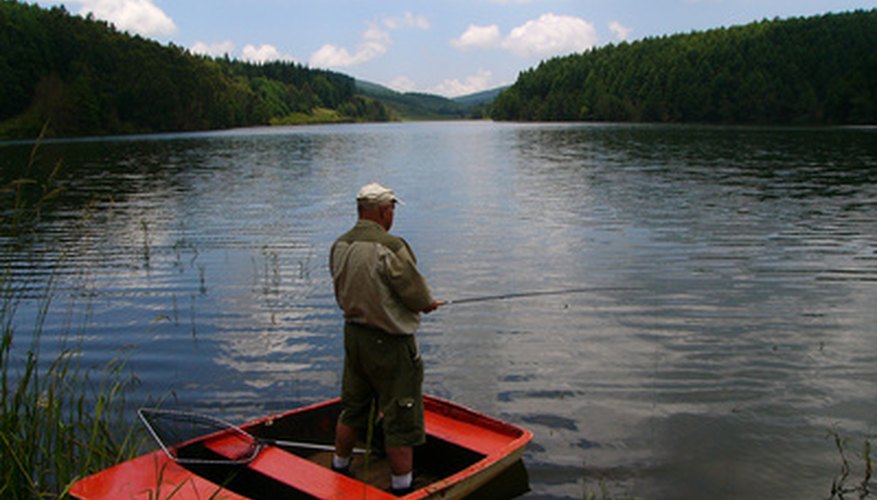 Spincast reels have been on the market in one form or another for many years. Designed to be easy to use and maintain, spincast reels traditionally provide younger and newer anglers with simple means of catching fish. However, the Zebco Omega takes the spincast reel experience to an entirely new level with six ball bearings, instant anti-reverse, brass worm gear and interchangeable line spools. Changing a line spool provides anglers with the ability to quickly adapt to changing fishing conditions.
Items you will need
Scissors

Zebco Omega spincast reel
Step 1
Remove any hooks, terminal tackle and lures from the end of the fishing line with scissors. Hold the Zebco reel so that the spool cover on the front of the reel is easily accessible.
Step 2
Turn the spool cover so it is loosened, and pull the cover straight out and away from the Zebco reel body. Pull the line completely through the hole in the center of the spool cover.
Step 3
Hold the handle of the reel so that it will not rotate. Grasp the spinner head covering the line spool and turn it to the left or counterclockwise to loosen. Continue turning to completely loosen and remove.
Step 4
Turn the drag adjustment on top of the reel to the maximum position.
Step 5
Grasp the spool on the Zebco reel and turn it slightly to unlock from the body of the reel. Pull the spool straight out and away from the reel body.
References
Writer Bio
Keith Dooley has a degree in outdoor education and sports management. He has worked as an assistant athletic director, head coach and assistant coach in various sports including football, softball and golf. Dooley has worked for various websites in the past, contributing instructional articles on a wide variety of topics.