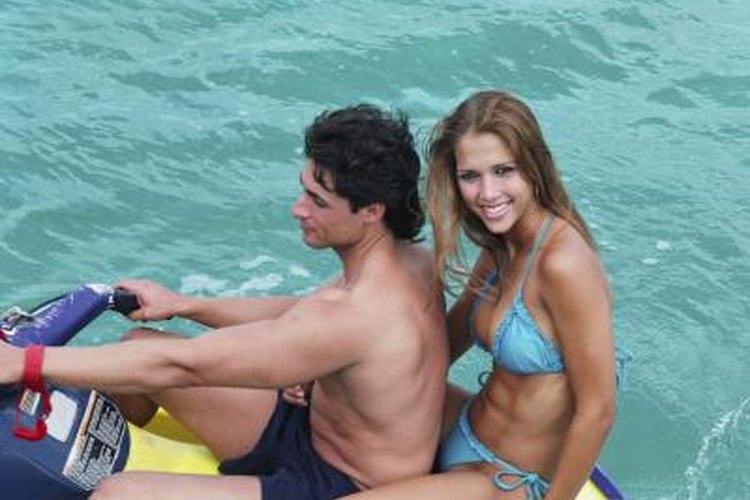 Only two bolts hold the starter on the engine of the Sea Doo GTX. Getting to those two bolts is something of an expedition, but the process is straightforward enough, once you have the vessel ashore. With a few hand tools -- all metric -- you can remove the old starter and install a replacement. Once you've replaced the starter, you can return the Sea Doo to service without further ado.
Removal
Activate the seat latch at the rear of the seat. Remove the seat. Lift the coolant expansion tank out of the boat. Set the tank aside.

Remove screws holding the logo in place at the rear of the vessel, using a 7 mm nut driver. Remove the retaining screws from the engine cover, using the nut driver, without dropping the retaining blocks underneath the engine cover. Pull the engine cover straight up.

Locate the starter on the starboard side of the engine, just below the exhaust manifold. Remove the 13 mm nut from the power cable, using a socket. Lift the power cable away from the top of the starter. Remove the two starter-retaining nuts, using a 4 mm T20 Torx driver. Lift the starter from the vessel.
Installation
Ensure the mating surfaces of the starter and the mounting bracket are both free of grease and debris, then put white marine grease on the starter's O-rings. Ensure the starter meshes correctly with the intermediate gear.

Place a dab of thread-locking compound on the two starter-retaining screws. Tighten the retaining screws to 89 inch-pounds, using a torque wrench.

Apply dielectric grease to the power stud on the starter. Place the red starter cable over the stud. Thread the 13 mm nut onto the stud. Tighten the nut to 62 inch-pounds.

Set the engine cover in place. Thread the five engine cover screws into the cover. Tighten the forward-most screw to 133 inch-pounds. Tighten the rest of the screws to 133 inch-pounds in the following sequence: starboard rear, port front, starboard rear and port rear.

Replace the coolant expansion tank. Position the logo plaque over its mounting bores and replace the screws. Replace the seat.
Items you will need
7 mm nut driver
13 mm socket
4 mm T20 Torx driver
White marine grease
Thread-locking compound
Torque wrench
Dielectric grease
Photo Credits
Ablestock.com/AbleStock.com/Getty Images