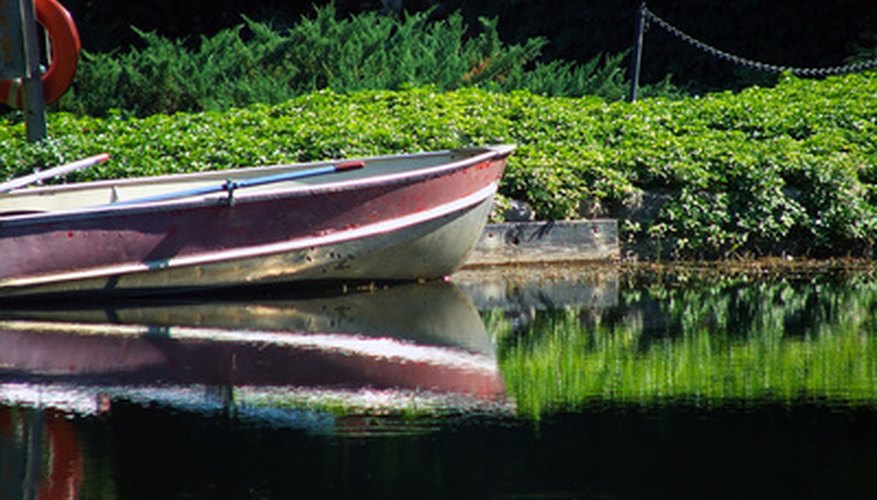 Fiberglass boats are painted with a fiberglass resin-based paint called gel coat. Gel coat consists of a high quality resin that's pigmented with color and has additives to protect from ultraviolet rays. Even with the protective qualities of gel coat, over time it will become dull and faded from oxidation.
Oxidation on fiberglass is basically like rust on metal; the fiberglass becomes dry and weak and will eventually flake off. Oxidized gel coat can be restored by removing the oxidized areas and applying multiple coats of wax.
Items you will need
Mild detergent

Bucket

Towels

Rags

Acetone

Rubbing compound

Gel coat sealer

Gel coat wax

Electric buffer
Step 1
Fill a bucket with water and mix in a decent amount of mild detergent. Clean the entire surface of the boat using a sponge to remove any mineral buildup or slime. Rinse with clean water and dry with a towel.
Step 2
Clean the surface with clean rags and acetone to remove any wax or grease that remains on the gel coat. Let the surface dry.
Step 3
Remove all the oxidation on the boat using rubbing compound on a clean rag. Rub directly on the oxidation in circular motions until the surface is completely smooth. Rinse all the leftover residue from the surface with clean water. Dry the boat with clean towels.
Step 4
Apply a coat of gel coat sealer using the foam applicator that comes with it. Let the sealer dry and buff it out with and electric buffer until the boat retains its original shine.
Step 5
Apply two to three coats of boat wax to the surface and let it dry. Again buff the surface of the boat until the shine returns. This will add an extra layer of protection to the gel coat.
Applying a fresh coat of wax or sealer to the boat regularly will prolong the life of your gel coat.
References
Tips
Applying a fresh coat of wax or sealer to the boat regularly will prolong the life of your gel coat.
Writer Bio
Jason Kurz has been a published writer for eHow.com and Trails.com for less than a year now. Kurz attended Kent State University of Ohio for Computer Aided Design.