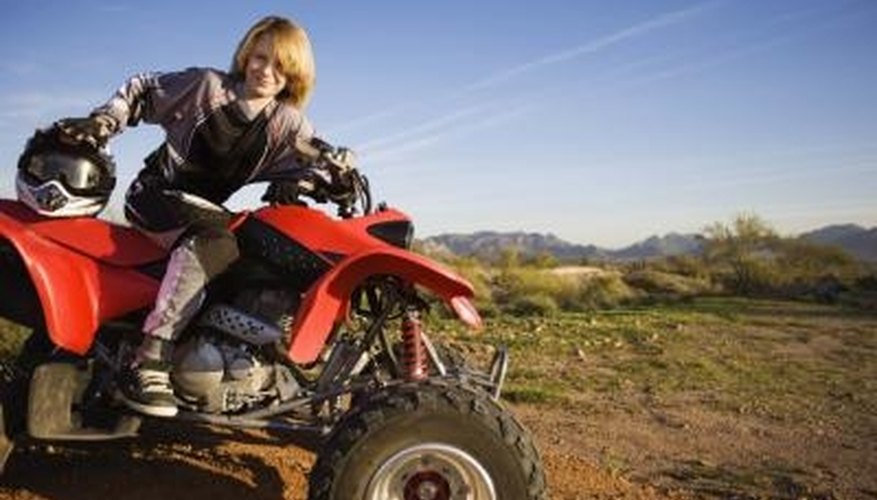 The Yamaha Timberwolf 250 ATV carries a small bore, center hung float style Mikuni carburetor attached to the air box and intake manifold. The rebuild process includes disassembling the carburetor, cleaning the interior chambers and replacing the gaskets. With this process complete, you'll have a carburetor that performs like new. Mikuni, a major manufacturer of ATV, dirt bike and small displacement engine carburetors, provides rebuild kits with gaskets and extra parts to ensure your rebuild goes smoothly.
Items you will need
Screwdriver

Box wrench set

Carburetor cleaner

Mikuni carburetor rebuild kit
Unscrew the bolt at the bottom of the bowl, the lowest component of the carburetor. Pull the bowl and bowl bolt away from the bottom of the carburetor to reveal the metering block, where the jets are mounted.
Unscrew the jets with a screwdriver.
Spray the jets, bowl and upper body of the carburetor with carburetor cleaner spray to remove all fuel residue and debris. Re-insert the jets, tightening them until they are snug.
Slip the bowl back onto the base of the carburetor, ensuring that you place a new bowl gasket between the bowl and carburetor base. This new gasket will seal the carburetor, a job that the gasket can only do once, so do not attempt to reuse the old gasket. Tighten the bowl bolt to complete the rebuild and cleaning process.
References
Writer Bio
Kelvin Hayes has been writing professionally since 2009 as a freelance copywriter. He runs his own online business, writing ebooks, reports and information products. Completely self-taught, Hayes prides himself on creatively completing writing projects by pulling from his wide range of life experiences.