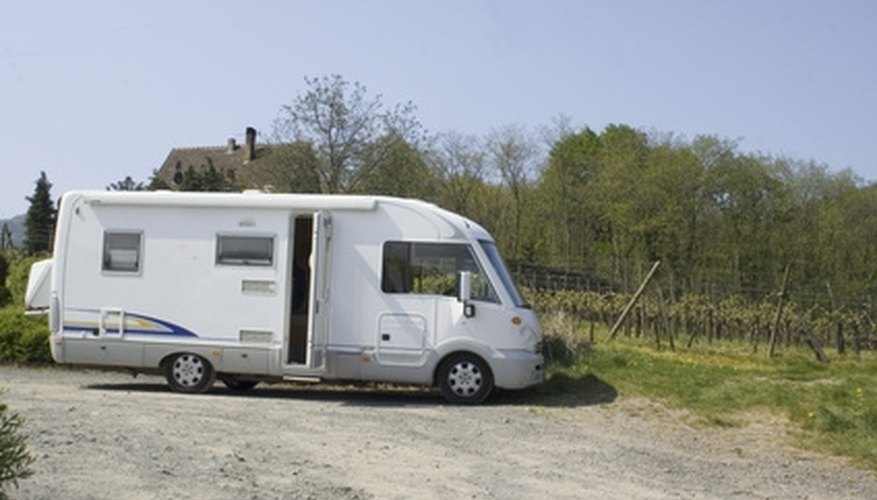 Steps on RVs vary in quality, and some are not substantial or easy enough to use. It is an easy task to build a set of wooden steps to support you as you enter your RV.
Rise
Builders fittingly named the part of a stair that goes up a "riser." Risers can vary in height from 6 inches to 7 3/4 inches, according to modern building codes, while older building codes allowed 8 3/4 inches. When determining the rise you need, Consider whether you or anyone else who uses the stairs has knee problems. The 6-inch rise is typically used in physical therapy settings for people who have mobility challenges.
Run
A second consideration in designing stairs is the run. That is the amount of room you have available for the stairs from the ground to the doorway. The longer the run, the lower the rise can be. If you are planning stairs for an RV you move from park to park, consider the size of the pad because you probably do not want your stairs' run to extend beyond the pad. Parking pads are typically 10 feet wide. RVs are usually 6.5 to 7 feet wide (not including expansion sections, which do not need to have room space on the pad). That leaves 3 feet for the run of your stairs. However, you may not need that much. If your door is 18 inches from the ground, and you wan a 6-inch rise, you would only need two steps. Each riser could have a tread of 1 foot and still have 1 foot left over on the pad--assuming you can park the RV so that with the side without doors aligns with the opposite edge of the pad.
Width
Doors in RVs are typically 24 inches wide, and most builders suggest that stairs be at least 3 feet wide.The challenge here is to build stairs that can slip through the door when you pack up to travel. A 3-foot-wide stair with a 3-foot run would fit inside only if the height of the stair does not extend more than 22 inches. Fortunately, since most RVs are not higher than 18 inches from the ground, the total rise would not have to be more than 18 inches. Building supply stores provide ready-cut, two-step, outdoor pressure-treated stair risers made of lumber. By adding a 1-inch tread, the overall height still would not be more than 12 1/2 inches, which would allow another 6-inch rise into the RV.
Tips
Make sure you use treads suitable for outdoor use. Cedar and redwood last longer than other wood if left untreated. You could use other wood and paint or stain it with a product designed for exterior use. Hot galvanized or stainless steel nails or screws will also withstand exterior weather better than other varieties.
References
Writer Bio
Jenny Landis-Steward has written reports for child welfare research for over 14 years. She has a master's degree in clinical psychology. She was the editor of two social service agency publications for seven years. Her economic thesis was an analysis of employment trends.