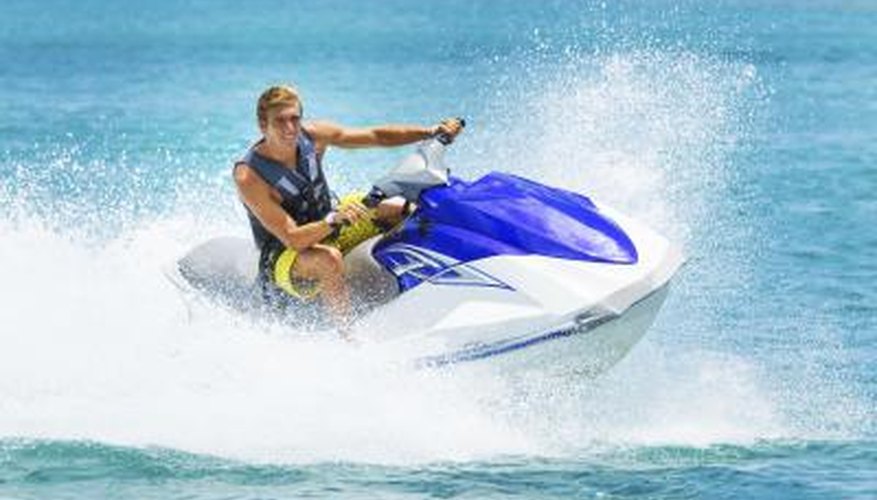 Florida has more than 1,800 miles of coastline, 1,200 miles of sandy beaches and nearly 8,000 lakes, according to the website, StateofFlorida.com. With this much water at the public's disposal, Florida is one of the best jet ski destinations in the United States. Whether you wish to jet ski along the coast, down a river or across a lake, Florida is sure to provide you with an exciting and fun place to get some great use out of your personal watercraft.
Lake Tarpon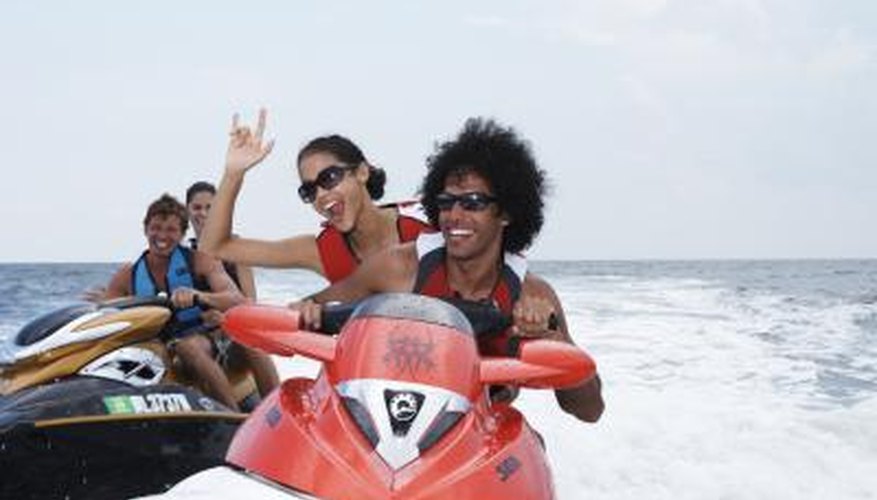 Jim Arbogast/Digital Vision/Getty Images
With three boat ramps available to access this freshwater lake, Lake Tarpon is a great jet skiing destination. Lake Tarpon is large enough to open the throttle and reach top speeds safely. Approximately five miles wide, Lake Tarpon has plenty of open surface area to build winds that can whip up some great ramp waves. Three parks located on the lake also make this a great family destination. Lake Tarpon is located in Pinellas County about 10 miles West of Tampa in Palm Harbor and Tarpon Springs, Florida.
More information about the lake, directions, surrounding businesses and lake maps can be found at: http://laketarpon.org/.
Ft. Meyers, Caloosahatchee River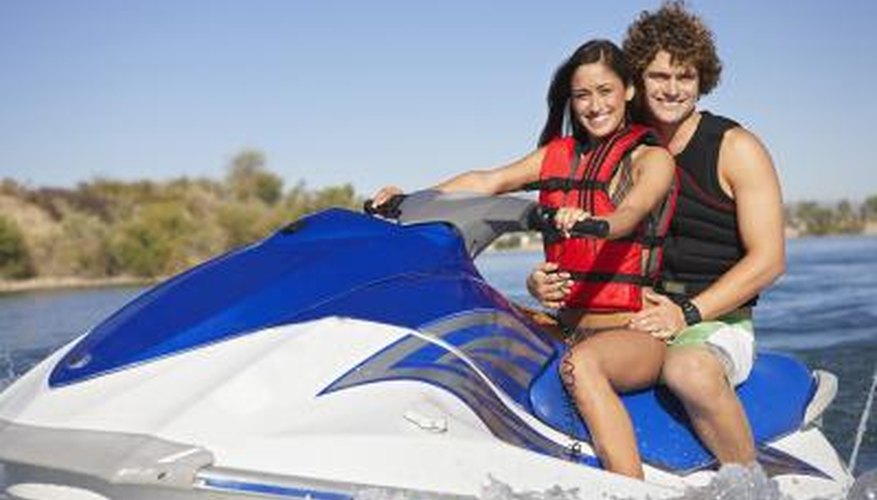 moodboard/moodboard/Getty Images
The Caloosahatchee River is an important link in the Inland Waterway system of Southern Florida. The river also drains rural areas on the Northern edge of the Everglades. The Caloosahatchee River at Ft. Myers is very wide and moderately deep, with large cruise ships and medium sized freighters following the river's channel toward the Gulf of Mexico. These ships can leave behind a rather large wake, which can provide some great opportunities to jump your jet ski and experiment with a myriad of other tricks.
Ft. Myers is located in Lee county, Florida. There are numerous places to launch boats, jet skis and other types of watercraft on the Caloosahatchee River at Ft. Myers. More information can be found at: http://www.cityftmyers.com/.
Key Biscayne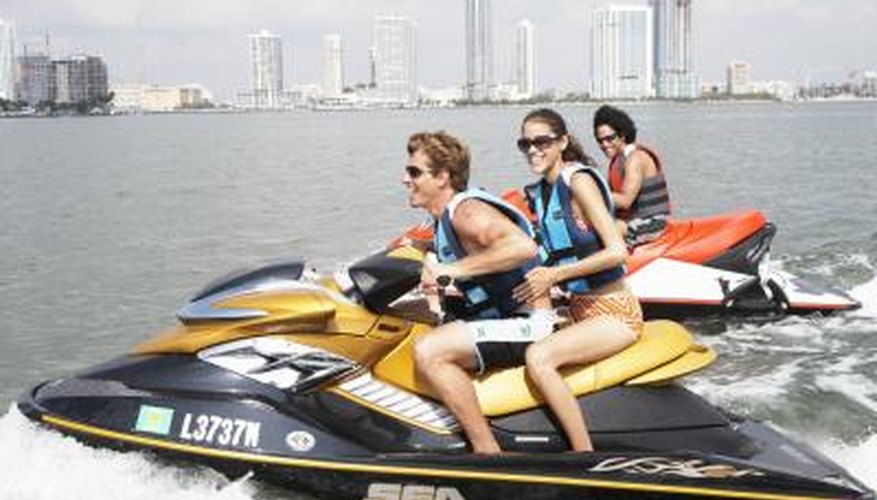 Jim Arbogast/Digital Vision/Getty Images
Crandon Park is located on Key Biscayne, one of Florida's most popular Keys. This park offers two miles of pristine beach to see from your jet ski, with open ocean to the East and several miles of water before reaching the Florida mainland to the West. Mangrove and wetland can also be seen at Crandon Park, although riding jet skis through these areas is not allowed. Crandon Park is located in Miami-Dade County and is just a few miles by jet ski to the next featured location of Virginia Key.
Crandon Park information can be found on the Miami-Dade County Parks and Recreation website: http://miamidade.gov/.
Virginia Key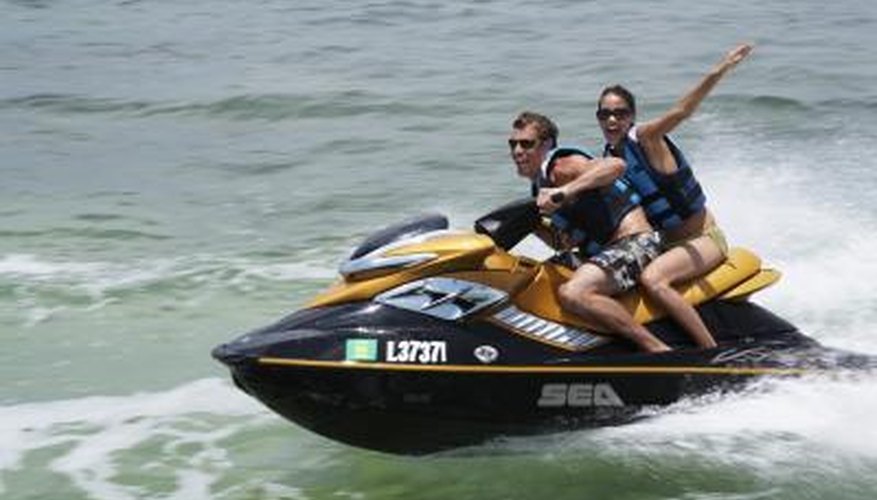 Jim Arbogast/Digital Vision/Getty Images
Virginia Key Park, located on Virginia Key, extends all the way to the Northern tip of Key Biscayne, a few miles away. Virginia Key is a barrier island with plenty of open water to reach top speeds on any jet ski. Skiing from Virginia Key to Key Biscayne is one of the most popular jet skiing routes for locals in the Miami area. Similar to Key Biscayne, Virginia Key offers a great view of beautiful beaches from a jet ski, as well as open ocean to jump waves and pick up speed without bothering other boaters or swimmers.
Virginia Key belongs to the City of Miami, as does Key Biscayne. More information about Virginia Key Park can be found at: http://www.miamigov.com/home/pages/.
Tampa Bay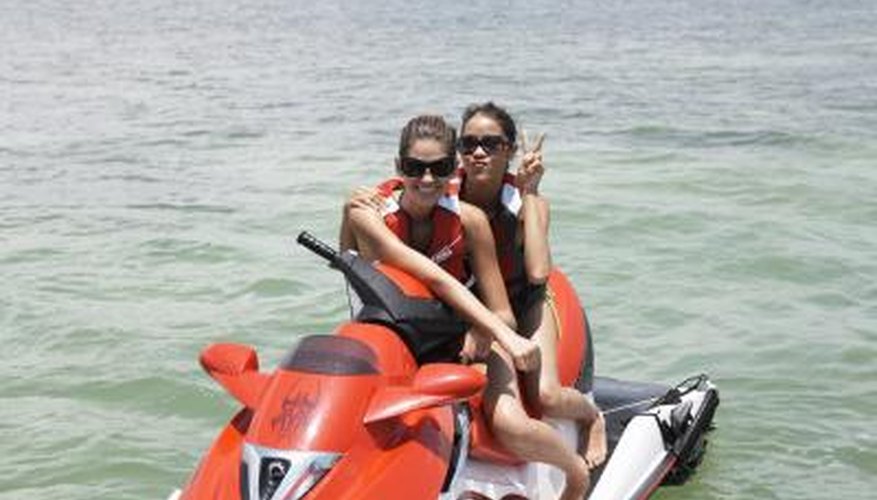 Jim Arbogast/Photodisc/Getty Images
Tampa Bay is Florida's largest open water estuary, with a water surface area extending over 1,000 square kilometers, according to the Tampa Chamber of Commerce. The sheer size of Tampa Bay means great waves, thanks to winds created by no obstructions and such a large water surface area. Top speeds can easily be reached on Tampa Bay as well, with plenty of room to go fast and do tricks on your jet ski. Large ships are constantly entering and exiting the bay's docks, which creates plenty of large wakes on which to jump a jet ski.
Tampa Bay can be accessed from several different locations, including Tampa, St. Petersburg and MacDill Air Force Base. More information about Tampa Bay and surrounding areas and boat ramps can be found at: http://www.tampagov.net/.
References
Writer Bio
Jesse Futch began writing professionally in 2008. He writes for various websites, including eHow, specializing in topics such as family, technology, travel, history and science. Futch is self-taught in the field of writing. He studied U.S. history, software engineering and missile and space systems at U.S. Air Force Technical College.