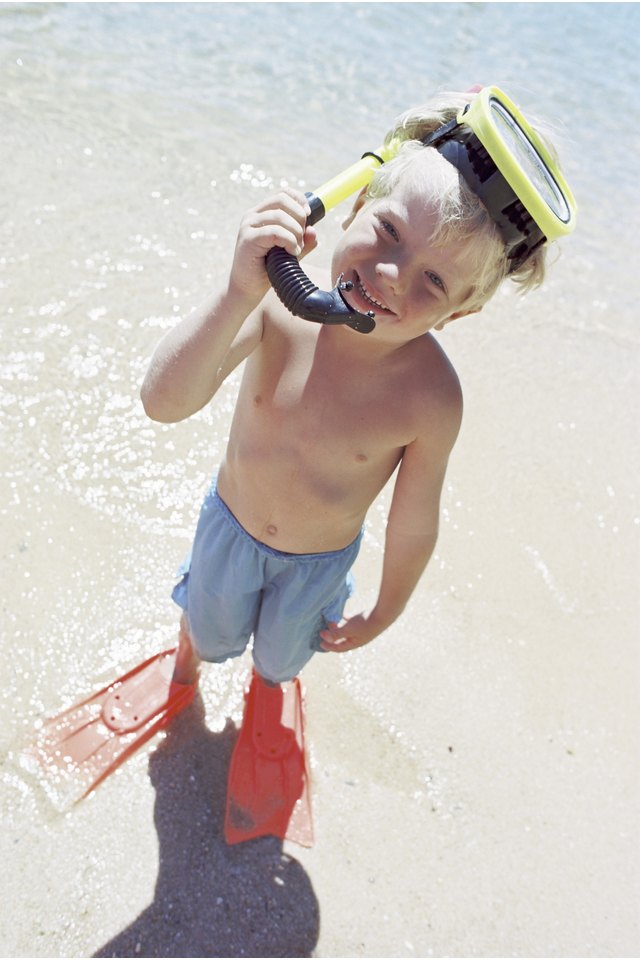 Florida's prime location between the Gulf of Mexico and the southern Atlantic Ocean waters makes the state a prime destination for water and beach activities. Between protected national reefs and sunken ruins, the waters just offshore are perfect for snorkeling in many parts of the state. While many of Florida's top snorkeling locations are in deep water, some of the best are in shallow waters, ideal for kids and weak swimmers.
The Florida Panhandle
The city of Destin on Florida's Panhandle offers snorkeling in crystal clear waters off the Gulf of Mexico. You can take the kids snorkeling directly off any Destin beach, staying within a few feet of the shore, in the shallow waters. The Jetty East Beach in Destin is meant for all ages due to its shallow water, and abundance of tropical fish, shells and sand dollars. High tide is the best time to snorkel at this beach.
Or, try the calm waters of St. Joseph Bay (floridastateparks.com/stjoseph). Seahorse Water Safaris (seahorsewatersafaris.com) provides snorkeling tours that are recommend for all ages, where kids can collect seashells and look for small fish in shallow waters that you can stand up in.
Tampa Bay Area
In the Tampa Bay area, the off-shore Egmont Key State Park (floridastateparks.org/egmontkey) is the premiere snorkeling destination. Kids can snorkel in the shallow waters surrounding the island and explore the partially submerged ruins of an old fort, which attracts scores of colorful, tropical fish. The island is only accessible by boat, but several boat tour companies are available, such as Adventure Cruises (adventurecruise.net). It offers a four-hour snorkeling tour at Egmont Key and includes snorkeling equipment and expert instructors.
Or, try Shell Key (pinellascounty.org/park), a tiny barrier island just off St. Pete beach. The shallow waters around Shell Key make it an excellent location for shelling and snorkeling for kids. Shell Key is also a bird sanctuary, allowing visitors the opportunity to view a variety of birds, as well as other wildlife. Shell Key Shuttle (shellkeyshuttle.com) provides boat shuttle service to and from the island six times a day.
Southern Atlantic Coast
While the murky waters of Florida's northern Atlantic coast make snorkeling virtually impossible, the clear, tropical waters of the Caribbean Sea make it easy on the southern Atlantic coast. Coral Cove Park (co.palm-beach.fl.us/parks) in Jupiter, Florida is home to a man-made reef just offshore in shallow waters. The beach is fully staffed with lifeguards vigilantly looking out for sharks, providing an added sense of safety.
Head to Fort Lauderdale Beach for some shallow snorkeling, as coral reefs teeming with animal life are just below the surface. One program on this beach for kids is Funky Fish Ocean Camp (funkyfishkidsday.com/aboutme.html), where kids learn how to snorkel, body board, paddle board and participate in other ocean-related activities taught by trained and certified instructors. Although the camp operates out of certain beach-front Fort Lauderdale hotels, any child can participate in the camp while parents are free to enjoy the day. Both single-day and full-week camp rates are available.
Florida Keys
The Florida Keys offer abundant snorkeling sites. Pennekamp State Park (pennekamppark.com) in Key Largo, the nation's first completely undersea park, is home to 178 nautical miles of coral reef about three to five miles offshore. Snorkeling tours, as well as glass bottom boat tours, are available several times a day from the visitors center. You can practice snorkeling along the shores of Cannon Beach, but you will have to take a boat tour to get out to the actual reef where hundreds of species of fish live. While many areas of the reef are quite shallow, kids must be able to swim and must wear life jackets in the water.
Further south in the Middle Keys area is another government-protected reef, the Looe Key National Marine Sanctuary (floridakeys.noaa.gov). Looe Key is considered a top area for snorkelers of all levels due to its both shallow and deep areas. It is also known for its clear visibility and healthy, diverse coral reef. The reef is five miles offshore, requiring you to take a boat tour. You can catch a boat leaving from Bahia Honda State Park (bahiahondapark.com) twice daily.
References
Resources
Writer Bio
Based in Los Angeles, Zora Hughes has been writing travel, parenting, cooking and relationship articles since 2010. Her work includes writing city profiles for Groupon. She also writes screenplays and won the S. Randolph Playwriting Award in 2004. She holds a Bachelor of Arts in television writing/producing and a Master of Arts Management in entertainment media management, both from Columbia College.